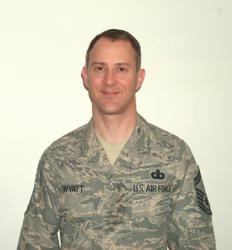 (PRWEB) December 19, 2011
Ashley Gideon of Aura IL who recently became a member of the 10K Club at SweepstakesToday.com (http://www.SweepstakesToday.com) won again when Anheuser-Busch awarded her a cash prize for herself plus a fully paid round trip home for a military person of her choice.
Gideon actually made two choices. The first was an Army Medic service man based in California who, because of California's sweepstakes rules, turned out to be ineligible to win the all expenses paid home town visit.
The second choice was Senior Master Sergeant Kent Wyatt who is the Assistant Principal French Horn, The United States Air Force Band. He has been stationed in Washington DC for his entire 14 year Air Force career.
Senior Master Sergeant Wyatt, who has played in Presidential Inaugural Parades as well as many other functions in our Nation's capital, is originally from Arlington, Texas. As a result of Gideon's win he'll be spending Christmas week with his parents, Don and Linda Wyatt and his sister Stacy in their parent's home in Mt. Pleasant, TX.
In addition to his musical career, Wyatt enjoys hiking, snorkeling, traveling and working out.
After hearing of the first service man's ineligibility, Kent stated he'd be happy to share any prize money left over from the trip with him if the contest administrators will allow it.
###