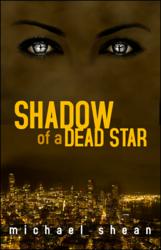 We couldn't be more proud to host Shadow of a Dead Star – a novel by Michael Shean, one of our very own local NoVa authors.
(PRWEB) December 17, 2011
Following up on the previous announcement about dark sci-fi author Michael Shean's three-book deal with indie publisher Curiosity Quills Press, the first book in Mr. Shean's catalogue – Shadow of a Dead Star – is now officially available in both Print and E-Book formats.
Shadow of a Dead Star is the first book of The Wonderland Cycle trilogy, depicting a dystopian Seattle of the future – where corporate interests rule all, where the human body is host to all manner of cybernetic technologies, where humanity is on the cusp of immortality itself.
"Shadow of a Dead Star is an exploration of where the human race goes without belief to anchor it," explains Michael Shean. "The novel proposes that without belief in something greater than oneself, there's a void left in the collective human psyche – socially and emotionally. Since nature abhors a vacuum, the overarching question of what exists to fill that void frames the story of Shadow as well as its sequels."
This is not the first time Michael Shean's novel makes its way into the hands of readers – originally released in June of 2011, Shadow of a Dead Star earned a cult following and glowing reviews on Amazon.com and across the blogosphere. Curiosity Quills Press is proud to carry on the torch and help take Mr. Shean's catalogue to the next level.
"This is a great occasion for us," says Lisa Gus, Marketing Director at Curiosity Quills Press, "As our first simultaneous print and digital release, we couldn't be more proud to host Shadow of a Dead Star – a novel by one of our very own local NoVa authors. We predict it will become the success it deserves to be, and helps cement Curiosity Quills' presence as a purveyor of cerebral, yet accessible and entertaining works of fiction."
Shadow of a Dead Star is available for $2.99 as an E-Book from Amazon.com, Barnes & Noble, and Smashwords. Print versions of the novel can be had from Amazon.com. The book will appear in additional outlets in the coming weeks.
The latest purchasing information, reviews, and commentary can be obtained from Curiosity Quills Press' official page for Shadow of a Dead Star, located at: http://curiosityquills.com/published-authors/michael-shean/shadow-of-a-dead-star/
A spinoff novella set in Shadow's Wonderland universe, Bone Wires, is currently serializing through Curiosity Quills Press, in its seventh installment at the moment of this writing.
###
About Michael Shean
Michael Shean was born amongst the sleepy hills and coal mines of southern West Virginia in 1978. Taught to read by his parents at a very early age, he has had a great love of the written word since the very beginning of his life. Growing up, he was often plagued with feelings of isolation and loneliness; he began writing off and on to help deflect this, though these themes are often explored in his work as a consequence. At the age of 16, Michael began to experience a chain of vivid nightmares that has continued to this day; it is from these aberrant dreams that he draws inspiration.
His work is extensively character-driven, but also focuses on building engaging worlds in which those characters interact. His influences include H.P. Lovecraft, William Gibson, Cormac McCarthy, Philip K. Dick, and Clark Ashton Smith.
About Curiosity Quills Press
Curiosity Quills Press (http://curiosityquills.com), launched in June, 2011 by writers, for writers, out of a common frustration with the state of publishing today. Instead of relying on readers to sift through the so-called "Amazon slush-pile", CQ presents a uniformly top-notch level of quality, tastefully curated, hard-hitting storylines, and memorable characters readers won't forget amidst their Kindle downloading sprees.
We know it's hard to stand out from the crowd when it's millions large, but Curiosity Quills Press helps level the playing field through its members' innovative social media approach, a transparent culture, and a deeply passionate team.
###