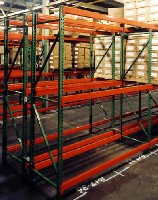 When our customers want pallet racks , we can't make them wait. Getting product delivered quicker than customer expect is one of our competitive advantages
Dallas,TX (PRWEB) December 19, 2011
A Plus Warehouse now announces the 2012 Pallet Rack Push. Obviously, pallet racks come under great demand when inventories build, as inventory need to be stored somewhere. Bulky and heavy stock on pallets will fit comfortably on a pallet rack. A Plus Warehouse announces the pallet rack push due to a bright economic forecast.
It is true that GDP has been fairly flat for a period of time, but A Plus Warehouse's expectation is that GDP is going to break out in 2012, and a positive result of that will be a buildup of inventory as manufacturers stock more raw material in anticipation of the additional demand for product. A Plus Warehouse gets pallet rack orders delivered promptly, with many tear drop pallet racks shipping on a next day basis. According to Carol Burton, pallet racking product manager, "When our customers want pallet racks , we can't make them wait. Getting product delivered quicker than customer expect is one of our competitive advantages." Of course it takes time for customers to design storage space and implement the storage system, so A Plus Warehouse suggests ordering right away, so no one is caught off guard by what promises to be a great 2012!
To minimize customer effort in the pallet rack ordering process, A Plus Warehouse has done quite a bit to help. Pallet racks are now offered pre- configured to include either the basic set up of uprights and beams, the deluxe set up of uprights, beams and wire decking , and finally the safety set up which is provided either way , but with rack guards as well. The rack guards keep the stock in the pallet rack minimize the possibility of items falling out. The pre-configured pallet racks are roll formed tear drop style , which is the most popular type.
For customers that are storing very heavy items, A Plus Warehouse has a pallet rack line as well. Although there is far less demand for structural pallet racks than traditional pallet rack, A Plus Warehouse helps these customers by including structural pallet racks in at http://www.apluswhs.com with pricing. Many dealers may show a picture and solicit an order by asking for a call, but A Plus Warehouse makes the job easier, just add the items into a shopping cart and check out. To interact with a sales person, A Plus Warehouse will accommodate that as well.
About A Plus Warehouse:
A Plus Warehouse is a nationwide distributor of pallet racks and storage equipment, and would like to remind customers to get rolling ladders here also
###