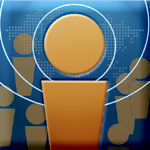 San Mateo, CA (PRWEB) December 19, 2011
WhosHere®, the world's most popular location-based friend finder, available on Apple iOS, today released version 2.15, which adds Hindi, Portuguese, and Swedish to its list of supported languages.
The update is specifically aimed at growing WhosHere user bases in Europe, South America and Asia. To date, WhosHere has attracted over 4 million users in more than 150 countries worldwide.
"WhosHere has had phenomenal global success since we launched in 2008, and localization has been a key part of our success from the beginning. Adding these languages will improve the experience for our users and accelerate our growth in these markets," said Stephen Smith, President, Co-Founder and COO at WhosHere.
Since its inception in 2008, WhosHere has been the vanguard of a now-booming location-based social app space. By leveraging location information on iOS devices, WhosHere helps users with similar interests, and in similar geographic areas, connect via free texts, free image messaging, and free VoIP calls -- without ever having to disclose any personal information.
WhosHere Version 2.15 is currently available for iOS. Pre-registrations for Android and native iPad versions of the app are currently available. Downloadable versions will be available in early 2012.
About WhosHere
WhosHere is the world's only mobile friend finder with "total freedom," a cost-free, worry-free, label-free approach to location-based dating and networking. It's fast to join, easy to use, and free to send texts, pictures, and VOIP calls without disclosing your phone number or email address. Founded in 2008 by myRete, Inc., WhosHere has over 4 million users. For more, visit WhosHere.net or download WhosHere on the iTunes App Store.
# # #