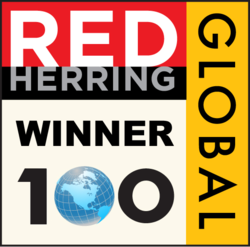 Panaya should be extremely proud of its achievement; the competition for the Top 100 was fierce. The Top 100 Global are truly the best of the best.
Amsterdam, Netherlands (PRWEB) December 19, 2011
ERP Upgrades and Test Automation SaaS provider, Panaya, was selected for the Red Herring Top Global 100 Tech Startup list of 2011. Panaya is not new to this list, having achieved this distinction among Red Herring's 2009 winners. Panaya has also been recognized for its achievement in Europe, a winner of Red Herring's Top100 Europe Tech Startup in 2008, and once again in 2011.
Red Herring's Global 100 list has become a mark of distinction for identifying promising companies and entrepreneurs. Red Herring editors were among the first to recognize that companies such as Google, Skype, Baidu, Salesforce.com, YouTube, eBay and many others would change the way we live and work.
Panaya's software-as-a-service helps companies reduce the cost of running SAP ERP and Oracle EBS by 80% by automating upgrades, testing, and maintenance. Panaya's cloud-based supercomputer is the backbone of Panaya's SaaS solution, simulating upgrades by running ERP customers' custom code on the target release, showing them what will break and what to test. In just a few years, Panaya has already helped hundreds of customers like Mercedes-Benz, The Home Depot, Sony, and Bosch with their SAP ERP upgrade and support package projects. In early 2011, Panaya expanded its offering to Oracle EBS customers.
Red Herring's editorial staff evaluated the companies on both quantitative and qualitative criteria, such as financial performance, technology innovation, management quality, strategy, and market penetration. This assessment of potential is complemented by a review of the track record and standing of startups relative to their sector peers, allowing Red Herring to see past the "buzz" and make the list an invaluable instrument of discovery and advocacy for the greatest business opportunities from around the world.
"Choosing the best out of the previous two years was by no means a small feat," said Alex Vieux, Chairman of Red Herring. "After rigorous contemplation and discussion, we narrowed down our list from 1,100 potential companies to 100 winners. It was an extremely difficult process. Panaya should be extremely proud of its achievement; the competition for the Top 100 was fierce. The Top 100 Global are truly the best of the best."
"We are honored and excited to continue to be recognized by Red Herring," said Yossi Cohen, founder and CEO of Panaya. "2011 marks another tremendous year of growth and new innovations achieved as a result of our commitment to creating a better way to operate SAP and Oracle ERP systems."
About Panaya
Panaya's software-as-a-service helps companies that use SAP or Oracle reduce 80% of their ERP upgrade and testing risk and effort. Utilizing a cloud-based supercomputer, Panaya simulates the upcoming upgrade, automatically pinpointing which custom programs will break as a result of the upgrade and automatically fixing most of these problems.
Panaya's testing solutions dramatically expedite ERP testing and eliminate the need for manual test script maintenance. Seamlessly capturing business knowledge in the background, as users work with the ERP applications, Panaya automatically generates plain-English test scripts that are rapidly executed and continually self-adjust based on test results.
For further information visit the Panaya web site at http://www.panayainc.com.
# # #