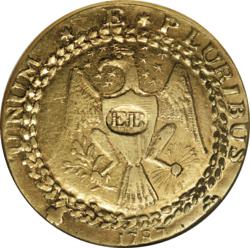 Laguna Beach, California (PRWEB) December 19, 2011
The unique Brasher Doubloon, the first gold coin made for the young United States, has been sold by nationally known rare coin dealer, Steven L. Contursi of Laguna Beach, California, to Certified Acceptance Corporation (CAC) of Far Hills, New Jersey. An undisclosed Wall Street investment firm subsequently has purchased it from Blanchard and Company of New Orleans, Louisiana for a record price of nearly $7.4 million, the most money ever paid for the historic rare coin.
It was struck in 1787 by George Washington's New York City neighbor, silversmith Ephraim Brasher. In January 2005, Contursi purchased the coin for a then-record $3 million along with participant Donald Kagin of Tiburon, California with Contursi having a two-thirds majority interest in it and Kagin one-third. Over the last seven years Contursi extensively exhibited the gold piece across the country.
"It's a national treasure, and I wanted tens of thousands of people to see it in person because it has tremendous significance for American history. It underscores the beginnings of our economic system," said Contursi who is President of Rare Coin Wholesalers in Irvine, California (http://www.rcw1.com).
Former American Numismatic Association President, Kenneth E. Bressett, has described the Brasher Doubloon as "without doubt our country's most famous and significant coin."
Contursi proudly set up educational displays with the legendary gold coin showcased in a custom-made wood exhibition cabinet reminiscent of the type used at the United States Mint in the 1800's. The Brasher Doubloon was publicly shown in Atlanta, Georgia; Baltimore, Maryland; Colorado Springs, Colorado; Denver, Colorado; Kansas City, Missouri; Las Vegas, Nevada; Long Beach, California; Los Angeles, California; New York, New York; Sacramento, California; San Francisco, California; St. Louis, Missouri; and Santa Clara, California.
The coin also was the inspiration for another of Contursi's businesses.
In 2010, he and his wife, Seanne, named their Napa Valley estate vineyard and wine brand, Arrow&Branch (http://www.ArrowandBranch.com), because an eagle on the famous gold coin is prominently depicted clutching arrows in one talon and an olive branch in the other.
"This subsequently was a common design theme on many United States coins, indicating that America wants peace but also has the strength and willingness to defend itself. The wine bottle labels depict arrows and a branch with the Latin words, TELUM (arrow) and STIPES (branch)," explained Contursi.
Only seven Brasher Doubloons of this type survive today, and this specimen is unique. It is the only one with the designer's initials, "EB," punched across the breast of an eagle depicted on the coin The six other surviving examples have the initials on the eagle's right wing.
The unique Brasher Doubloon was kept in Baltimore for nearly 100 years when it was owned by Baltimore & Ohio Railroad magnate T. Harrison Garrett and his family, and later by The Johns Hopkins University. The coin was the subject of a 1942 Raymond Chandler novel, "The High Window," and a subsequent 1947 movie, "The Brasher Doubloon," based on Chandler's story about fictional detective Philip Marlowe.
"The denomination, 'doubloon,' may seem unusual today, but it was the coin-of-the-realm when the Brasher Doubloon was issued in 1787 as proposed coinage for the new republic. At the time, doubloons contained $14 worth of gold, but the Brasher Doubloons actually had $15 worth of gold when they were made," explained John W. Dannreuther, a co-founder of Professional Coin Grading Service, when the coin was displayed in 2006 in Baltimore.
"Fifteen dollars in 1787 is the equivalent of about $2,800 in today's buying power standards," said Contursi.
# # #