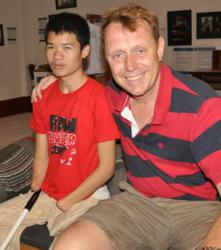 Both COPE and Medical Aid International are extremely grateful to Howard and his wonderful team at Health Clubs at Home for their support and donation of the treadmills and exercise cycles to this project
(PRWEB UK) 27 December 2011
Health Clubs at Home has teamed up with a medical charity to refit five treatment centres and operating theatres in Laos with vital fitness equipment to help rehabilitate bomb victims.
The deal means that the Cooperative Orthotic and Prosthetic Enterprise (COPE) has been able to replace the existing broken exercise machines with three Life Fitness 9500 treadmills and four Star Trac 4300 bikes, a move that will make life-changing improvements to many people's lives.
COPE provides rehabilitation services, including physiotherapy and occupational therapy, for Laos bomb victims suffering from the aftermath of the Vietnam war, the result of which has left many unexploded cluster bombs littering the small country.
Tim Beacon is the director of Med-Aid, a UK organisation that provides hospitals in the developing world with second hand medical and rehabilitation equipment from Europe.
Tim negotiated the deal with Health Clubs at Home's managing director, Howard Braband, and said the equipment would be invaluable to the COPE team: 'The treadmills and exercise cycles are a vital rehabilitation tool, as amputees and those with limb problems receive vital treatment. COPE's current equipment is broken and insufficient for the workload and clinical requirements.'
The Life Fitness 9500 treadmills are the perfect replacement for the broken machines, with their patented FlexDeck Shock Absorption System which reduces knee and joint stress by up to 30% more than non-cushioned surfaces, decreasing the chance for injury. The 9500 also relies on eight Life-spring shock absorbers to deliver consistent cushioning – ideal for those receiving exercise rehabilitation.
Similarly, the reliable, easy to operate Star Trac 4300 upright exercise bikes will become an invaluable piece of fitness equipment in the COPE rehab centres. The machines' belt drive system offers a smooth and comfortable ride, and allows the user to choose from a variety of different programs to suit their individual needs.
Tim said the fitness equipment would make a huge difference to peoples' lives, particularly amputee victims.
He said: 'Both COPE and Medical Aid International are extremely grateful to Howard and his wonderful team at Health Clubs at Home for their support and donation of the treadmills and exercise cycles to this project.
'The quality is superb and the effort that they went to, to make sure they were just right for the environment was amazing. We are all so grateful for their support. It is so encouraging and inspirational to know that there are companies out there willing to help like this. They are very special people.'
He added that COPE also trains local people to become health care rehabilitation providers, stating that 'having such high quality equipment makes an immense difference practically and psychologically.'
The Life Fitness treadmills are also incredibly durable, with the 9500 model featuring the ever-wax automatic wax lubrication system that keeps the machine running comfortably for years to come, a big bonus to those working in the rehabilitation centres in Laos.
Health Clubs at Home are one of Europes leading commercial fitness equipment suppliers, selling both new and refursbished commercial gym and fitness equipment. The sell the worlds leading brands such as Technogym, Precor, Life Fitness, Cybex, Concept 2 Rowing machines and as well as free weights and commercial dumbbells.
For more information on the work that Med-Aid and COPE do for the developing world, visit http://www.medaid.co.uk and http://www.copelaos.org. To find out more about Health Clubs at Home's extensive range of fitness equipment, suitable for every type of exercise and ability, ring Howard Braband on 08455 641 367 or visit http://www.healthclubsathome.com.
###