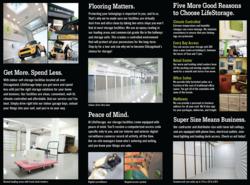 Chicago, IL (PRWEB) December 19, 2011
LifeStorage, Chicago self storage provider for home and business, records management and office solutions, is proud to announce its sponsorship of the The WGN Morning News Drive-Thru Toy Drive in Chicago. WGN and sponsors are again partnering with Oscar winner Jennifer Hudson's Julian D. King Gift Foundation, while LifeStorage returns for the second consecutive year as the official storage facility for the charity event. WGN, LifeStorage, and Hudson are all Chicago's Very Own, and the event is a celebration of the holiday season and memory of Hudson's slain nephew, Julian D. King.
The Toy Drive, celebrating its ninth year, is accepting new and unwrapped toys and culminates with a televised celebration on December 20th at the WGN-TV studios, located at 2501 W. Bradley Place, Chicago, IL 60618. From 5am-9am, the four-hour event will feature carolers, a visit from Santa, and an appearance by Jennifer Hudson. The Julian D. King Foundation will also hold an event later that week to distribute the collected toys, with the help of LifeStorage and its staff.
LifeStorage is doubling as Santa's heated drive-thru storage vault, a secret location at one of its 17 Chicagoland self storage facilities, where all the donated gifts will be kept safe. The WGN Toy Drive is just another in LifeStorage's continuing efforts to give back to the community. Some of its biggest efforts this season have been raising food for The Frankfort Township Food Pantry and The Pantry of Rich Township, coats for Cornerstone Community Outreach, and most recently, visiting sick and injured children at Sherman Hospital in Elgin.
"On top of our myriad charity events, we were also accepting Toys for Tots donations at all of our locations and during talks with WGN about TV commercials, they told us about their toy drive and the Julian D. King Gift Foundation. WGN mentioned that they needed boxes, trucks, and indoor climate-controlled storage for all of the toy donations. We had everything needed readily available and wanted to be a part of it," said Matthew T. Clark, Vice President of Operations, LifeStorage Records Management, LLC.
After the four-hour celebration on the 20th, LifeStorage will pick the toys up from WGN and store them until Christmas Eve, when the toys will be distributed by LifeStorage and the Julian D. King Gift Foundation. "WGN, Jennifer Hudson and the Foundation have used all of their resources to promote this toy drive and ensure enough toys will be collected so that no child in Chicago will have to go without this holiday season. LifeStorage is excited to be apart of such a noble effort and has a positive influence on the towns where our businesses are located, and the communities we do business with," Clark said.
# # #