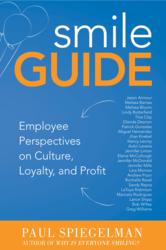 If you want to know what makes a company great, the answer is here. - Bo Burlingham, Editor-at-large, Inc.
Dallas, TX (PRWEB) December 20, 2011
Paul Spiegelman, founder & chief executive officer of The Beryl Companies, located in Bedford, TX, and author of "Why is Everyone Smiling?" gives voice to twenty-four Beryl Company employees in the new book "Smile Guide: Employee Perspectives on Culture, Loyalty, and Profit" (Brown Books Publishing Group, February, 2012). How many employers give the gift of becoming a published author to their employees? Read "Smile Guide" and find out why!

Why is a company with a positive culture such an exception these days?
Do your employees work for you because they have to…or because they want to?
Why do so many new hires at Beryl feel compelled to tell Spiegelman how special the company is – and how surprised they are to find a workplace that finally treats them like human beings?
"If you want to know what makes a great company, the answer is here," says Bo Burlingham, Editor-at-Large, Inc., and Author of "Small Giants: Companies That Choose to Be Great Instead of Big."
Told through the distinct voices of staff members, "Smile Guide" offers a unique insight into the inner workings of this employee-centric company and the impact that culture can have – both on the company's bottom line and employees' personal lives.
"Spiegelman has captured the essence of the things that really matter the most in business – providing an environment where your employees are engaged and inspired," says Doug Tatum, Chairholder, the Wright Chair of Entrepreneurship, associate professor, Jennings A. Jones College of Business, MTSU.
Employee loyalty drives customer satisfaction, which in turn drives profit: this is the key to success for Paul Spiegelman. "If compassionate, ethical enterprises became the rule instead of the exception, businesses would be much better positioned to create more sustainable employment and greater long-term growth," says Spiegelman.
Building a solid culture program is a long process of hard work, but "Smile Guide" provides the tips and tools needed to employ a proven means of generating small impact that will transform your organization for the better.
"Smile Guide" provides a road map for making the exceptional Beryl business model the rule. From recruiting and branding to leadership and communication, "Smile Guide" addresses each aspect of establishing and maintaining a personalized, beneficial, and efficient company culture.
"The most important responsibility of any CEO is to set the culture of the company. "Smile Guide," is a rich testament to the culture Spiegelman has created at Beryl," states Norm Brodsky, Founder, CitiStorage.
This collaboration of Beryl coworkers drives home the point that there is a clear correlation between an ethical, empowered workforce and profitable operations. *Pre-orders available at Amazon.com. To learn more visit: http://www.SmileGuideBook.com
To learn more about Brown Books Publishing visit: http://www.brownbooks.com
# # #