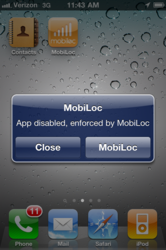 MobileLutions fully supports the NTSB in the goal of removing the dangers of distracted driving.
Larry Eppard - Founder
Dallas, Tx (PRWEB) December 19, 2011
MobileLutions reviewed the December 13, 2011 announcement by the NTSB calling for a nationwide ban on the use of cell phones and text messaging while driving, including, email, browsing the Internet, posting and reading social media sites, such as Facebook and Twitter. In support of the announcement, MobileLutions is making an eBook, 4 Steps to Creating a Cell Phone Policy, available to any company.
While every company must evaluate their unique position on the issue of distracted driving, the dangers of the use of cell phones while operating vehicles is becoming a national priority. Companies must proactively address this issue and get ahead of legislation that is sure to follow.
This national awareness, along with existing state laws already in place, creates a potential liability issue for companies who:

Provide employees with phones or cars.
Reimburse employees for smartphone or mileage.
Have employees operating motor vehicles while on official company business.
MobileLutions has been dedicated to this issue since early 2010 and has developed technology to enforce company policies on cell phones. In fact, MobileLutions provides solutions on Blackberry, Android and iPhone hardware, regardless of the service network.
While MobileLutions acknowledges smartphones have enabled employees to be more productive, responsive and in contact with colleagues more than ever before. If your employee is involved in an accident, caused by use of these devices, the consequences will be financially severe. Not to mention a company's public reputation.
Although it can sound daunting to create a cell phone policy, a company can create a policy by following the steps, outlined in MobileLutions - 4 Steps to a Cell Phone Policy. To receive the eBook click here.
For the second step, monitoring and enforcing the cell phone policy, MobileLutions is holding a series of free webinars to educate companies on the dangers of distracted driving and how technology has advanced to mitigate the risk to companies, employees and the public. Click here to sign up for a one-on-one webinar.
MobileLutions is a leading provider of software solutions to prevent distracted driving accidents and reduce corporate and personal exposure from this risk. To learn more, please visit http://www.MobileLutions.com
###