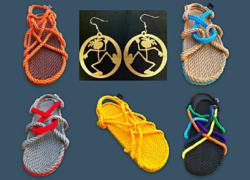 So, this is the difference between small industry and the big guys.
Fayetteville, North Carolina (PRWEB) December 19, 2011
Nomadic State of Mind recently released a series of new colors in their traditional rope sandal collection.  These colors are a fun addition to the more neutral colors they have featured in the past few years.  
Chris Anderson, owner and founder of Nomadic State of Mind, has indicated that these new colors are a test run for what the company will carry in the upcoming season.  "We will see how these sandals sell and what feedback we receive from our customers to determine what we will continue through the spring."  This is not the first time the company has used this tactic to bring in new products.  In fact, the company regularly test runs their products to see what kind of response they get from the customer.  
This is the latest release of products for the company after a series of new additions in the past two months.  "We have been lucky to continue to grow over the past few years and we have become a company that does more than just sandals," says Anderson.  Last month the company announced its addition of a sustainable jewelry line to their collection as well.  The jewelry is made from wood that is grown in a 344 county region in the Appalachian Mountains.  For every tree harvested in this region, 2.29 more trees are growing.
Sustainability has always been important to the folks at Nomadic State of Mind, and all of their products are all either handmade, recycled, hemp, organic, made in the US, or a combination of these features.  While the company believes in manufacturing a variety of sustainable goods, they strive to keep their products affordable and comfortable as well.
These new products, and much more, are currently available on the company's website, Nomadic State of Mind. Orders placed through December 19th will arrive in time for Christmas, without additional charges, and the company is offering free shipping on all orders over $49.
About Nomadic State of Mind
Nomadic State of Mind was founded nearly ten years ago and is based in North Carolina.  Manufacturing takes place both in Florida and in Nicaragua where the company has helped support a small community for the past eight years.  Nomadic has always believed in positive contributions to the world around them and this program is just one of many ways they remain true to their roots.  For more information or additional art work please contact Chris Anderson or Shea McNally at 877-666-2376 or Nomadic State of Mind.
###