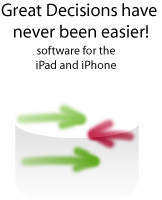 Nicely done with an interface that doesn't encumber the thought process.
Durango, CO (PRWEB) December 19, 2011
Just in time for Christmas Great Life Software hits a home run with the new added features for their popular decision making software called Great Decisions.
For the last several months Great Life Software has been focused on adding in features that clients have asked for.
In this latest version 1.6 Great Life Software has added a new plus sign to the keyboard screen which allows adding attributes to decisions without having to close the keyboard. This is a huge relief to the thousands of users who have requested this feature.
In this latest version, there is also a template library that has been added to their website. Importing templates and creating them is easily completed in a couple of keystrokes. Website access can now be accomplished within the app itself.
Great Decisions is a decision making tool that has three programs in one so users get high value for the dollar spent. Great To Do List, another very popular to do list manager is built into Great Decisions along with a Comparison tool and a Pro-Cons (Force Field Analysis) tool for making decisions.
This app can be found at the Apple App Store for the iPad and iPhone.
###