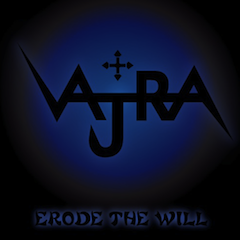 "Vajra was formed by composer, singer and multi-instrumentalist, Annamaria Pinna …[while living] in India, and you can indeed hear an exotic influence in her songs, which though carry a very western tension and darkness....-- The Deli Magazine NYC
New York, NY (PRWEB) December 21, 2011
Vajra's single, "Erode the Will" is featured the entire month of December on Virgin America's In-Flight Entertainment Series. The single will play aboard Virgin's aircrafts on the "New Music Discovered" Channel, and will reach more than 450,000 flying ears per month.
"Erode the Will" is a dark commentary on today's political climate. A fitting release during the Occupy Wall Street protests, the lyrics, "silence opposition, circumvent free will" examine the pitfalls of an apathetic nation under siege by an oligarchical government. Somber guitars beat out a rhythm of foreboding danger while hymn-like chants reveal the role that religion plays in censoring free thought. The entire song is a funereal tribute of what can happen when both mind and spirit are paralyzed. The band leads one on a sonic sojourn to a climactic end that leaves the listener clambering for more.
Look out for Vajra's forthcoming album "Pleroma" slated for release in 2012. "Pleroma" is an exploration of paradoxes; east vs. west, soft vs. pummeling, female vs. male. The album includes appearances by drummer Blake Fleming from The Mars Volta, bass guitarist Doug Wright from The Dirty Pearls and guitarist Will Dahl from Harley's War as well as tabla master Turtle Jon. It was written and produced by Annamaria Pinna and recorded in Mumbai, NYC, and Weed, CA. Vocals were co-produced by multi-platinum, Grammy Award Winner, Sylvia Massy (Johnny Cash, Prince, Tool, System of a Down) and mixed by Rich Veltrop (Slayer, Tom Petty, Rage Against the Machine, Red Hot Chilli Peppers) at Radiostar Studios in Weed, CA. It was engineered by Matt Boynton (MGMT) at Vacation Island Recording, as well as Sylvia Massy and Ian Rickard at Radiostar Studios. Mastering by Tom Baker (NIN, Prince, Foo Fighters, Ministry, etc) at Precision Audio in LA.
"Erode The Will" is available on Itunes here:
http://itunes.apple.com/us/album/erode-the-will-single/id472333947
and "Pleroma" can be pre-ordered here:
vajratemple.bandcamp.com/
For more info about Vajra, please go to the following pages at:
http://www.thevajratemple.com
http://www.facebook.com/vajratemple
reverbnation.com/vajra
twitter.com/vajratemple
myspace.com/vajratemple
For more information:
Angela Blando
Vajra Temple
(845) 430-6283
vajratemple(at)gmail(dot)com
###