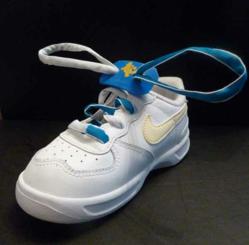 Bala Cynwyd, PA (PRWEB) December 20, 2011
The Loopeez.com website announced free shipping on their shoe tying aids, and their unique bi-colored shoelaces. Loopeez shoe tying aid help parents teach their children how to tie their shoes easily while removing the parental frustration that often occurs when teaching shoe tying. The Bi-Colored shoelaces help kids to see the left and right loops allowing kids to learn to tie shoes in minutes!
The Loopeez online store is offering free shipping until December 24th, which gives parents and relatives enough time to order the shoe tying aid to give as a Christmas gift. The bi-colored shoelaces that are offered by the company come in four different colors which are black and white, blue and white, pink and white, and purple and white. Helping children to learn shoe tying is a lot easier with different colored shoelaces because the different colors help kids to be able to distinguish the left and right shoelace.
Shoe tying is something that every parent eventually has to deal with when the child reaches a certain age. The Loopeez shoe tying aid helps to accelerate the learning process with a fun and easy to use device. Children will want to learn how to tie their shoelaces once they see the shoe tying aid and the bi-colored shoelaces, but the best part is that the children will feel as if they are having fun instead of being forced to learn something else that they have to deal with on a daily basis.
The senior staff members on the Loopeez website have produced videos which help parents learn how to use the shoe tying aid with their children. The website also offers articles with tips and tricks on how to effectively use the company's device which is a plus for parents who want to teach their children the skill as quickly as possible.
About
Loopeez was invented by Courtney Maslow, who was frustrated that kids could use computers but were not able to tie their shoes. Not wanting her kids to wear Velcro sneakers Courtney realized that one of the problems of teaching kids to tie shoes is that they have a hard time holding the laces in place while making the loops. Loopeez solves this problem.
# # #