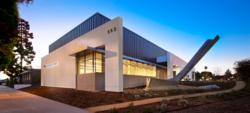 Kids and patrons will have an instant connection to the power that's being generated by the photovoltaics ... It's a great way to connect the users—the community—with what's happening in their building.
Irvine, CA (PRWEB) December 19, 2011
Every year, citizens look forward to the annual "Project of the Year" picks from the Southern California Chapter of the American Public Works Association (APWA). Civic buildings earn a coveted B.E.S.T. in Public Works title for their innovation, mobility, beautification, and overall creativity. This year, two facilities, designed by California-based LPA Inc., scored top honors as they were recognized as facilities of the year.
The first, completed in 2010, is a police headquarters created for the City of Hesperia. Part of a Civic Center master plan, developed in concert with Griffin Structures, the police facility sits across from the city hall and public library—both completed in 2006. The 42,000-square-foot station received Leadership in Energy and Environmental Design (LEED) Gold certification, from the U.S. Green Building Council, earlier this year.
Senior Designer, Rick D'Amato, included overhead skylights to bring natural daylight into the internal atrium and common spaces, a difficult feat in such a maximum security building. Louvered canopies reduce the sun's heat on south-facing windows, and lighting and occupancy sensors help reduce electricity costs. Overall, this police station performs 17.8% better than California's stringent Title 24 building requirements, and its neighbor, the Jerry Lewis High Desert San Bernardino County Government Center, is also LEED Gold certified.
The second public building, recognized by APWA as a "2011 Project of the Year," is the newly renovated and expanded Fullerton Public Library. Reopened in July, the expansion added 6,000 square feet to the existing, 50,000-square-foot library. Amenities include a large community meeting room, kitchen, café, and book store, along with an expanded local history area, new teen services area and technology center. Today, the 45-year-old library looks "fresh, bright, and timeless," according to Interior Designer Chris Lentz. Architectural improvements include seismically sound shelving; new technologically compatible furniture; expansive windows which deliver natural daylight and protect books with energy efficient, low UV glazing; along with, energy efficient lighting fixtures. Photovoltaic panels are set to be installed in the library's parking lot, which architect Charlie Williams says, include a monitoring system where visitors can see the building's power use, in real-time.
"Kids and patrons will have an instant connection to the power being generated by the photovoltaics," continues Williams. "It's a great way to connect the users—the community—with what's happening in their building … not only the architecture, but the sustainable design features as well."
As with the Hesperia police headquarters, program manager Griffin Structures worked together with LPA on the Fullerton Public Library, to execute a smooth and successful design and construction experience. The contractors who built the facilities include Swinerton Builders and McCarthy Building Companies, for the library and police headquarters respectively.
Hesperia Police Headquarters
15840 Smoke Tree Street
Hesperia, CA 92345
Fullerton Public Library
353 W. Commonwealth Ave.
Fullerton, California 92832
About American Public Works Association
APWA is the professional association of public works leaders throughout the United States and Canada. The Southern California Chapter covers Orange, Los Angeles, Riverside and San Bernardino Counties with branches in the Inland Empire, Coachella Valley and the High Desert. The B.E.S.T. in Public Works awards recognize public agencies for their outstanding projects and programs.
About LPA Inc.
Founded in 1965, LPA has more than 230 employees with offices in Irvine, Roseville, and San Diego, Calif. The firm provides services in architecture, sustainability, planning, interior design, landscape architecture, engineering, and graphics. There is no "Sustainability Director," at LPA. Instead, more than 78% of the professionals are LEED accredited, including the Human Resources Director and CFO. With extensive experience in public and private architecture, LPA designs a diversity of facilities that span from K-12 schools, colleges and universities, to corporate and civic establishments. More than 500 major design awards attest to LPA's commitment to design excellence.
###