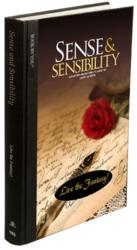 Personalized Sense and Sensibility - perfect for fans of the Jane Austen book, the movie, BBC series or romantics at heart.
London, Ontario (PRWEB) December 19, 2011
ClassicBookByYou.com is proud to present the personalized edition of Sense and Sensibility. The first of Jane Austen's six full-length novels, Sense and Sensibility—first published in 1811—reached its bicentennial this year, and Classic Book By You honors both this timeless novel and its author by creating a new way for readers to experience Austen's world… from the inside, by playing one of the roles in this newly customized edition.
The personalized Sense and Sensibility features two very different sisters falling in love: responsible Elinor keeps her admiration for kind, shy Edward Ferrars a secret, while headstrong Marianne is wholeheartedly open in her devotion to dashing cad Wilhoughby—though she's also adored by noble and steadfast Colonel Brandon. These and other roles are all customizable, letting customers choose the names and physical features such as hair and eye color. Each of the company's personalized books is as unique as its recipient. Readers can navigate the intricate rules of Regency society, endure bittersweet torment, and finally get their hearts' desires in this tale of sacrifice, recklessness, faith, and gentle humor.
Mike Pocock, founder of Book By You, comments: "With the continuing popularity of the novel, the Oscar-winning film starring Emma Thompson, Kate Winslet and Alan Rickman, and the more recent BBC adaptation, our personalized Sense and Sensibility makes the perfect gift for romantics and Jane Austen fans alike."
The personalized Sense and Sensibiltiy is only $29.95 for the paperback edition and $49.95 for the hardcover. Gift-givers can add a free dedication within the novel, add a custom photo to the back cover, or purchase gift certificates.
To purchase a Book By You® personalized novel, readers go to the company's website at http://www.ClassicBookByYou.com and complete a character questionnaire specifying the information to be included in their book. The company offers a free demonstration area where readers can preview personalized classics from any of the company's classic, teen, romance, mystery or children's novels. Media interviews and promo images are available upon request 1-877-898-1440 or publish(at)BookByYou(dot)com.
###