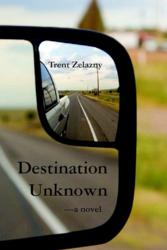 Santa Fe, New Mexico (PRWEB) December 20, 2011
Destination Unknown is published by J. Boylston & Company's Imprint - ibooks and is now available in paperback format as well as Kindle and Nook e-book versions.
Brian has found solace in alcohol, while Kate spends most of her time sedated. Until the night on the mountain road, and the briefcase they suddenly come to possess an important briefcase that was not intended for them. Now, battling with their own inner struggles, the two of them become the targets of an unknown adversary less interested in the briefcase than in the games he can play. As their lives threaten to completely fall apart, Brian and Kate must find the strength not only to work together, but to face the horrible tragedy that haunts them both, and asks the question:
Can you stick together after you've fallen apart?
Celebrated for his natural gift for storytelling, Trent Zelazny is an exciting upcoming author applauded by many notable writers for his talented prose and ability to penetrate his readers' minds.
"Trent Zelazny has already begun to carve out his own genre niche. He's got the right stuff to make fiction both engrossing and literate."
--Tom Piccirilli, winner of two International Thriller Awards and four Bram Stoker Awards
"A gift for storytelling is in Trent Zelazny's genes."
--Charles Ardai, publisher of Hard Case Crime
Trent Zelazny is the author of the highly praised novella Fractal Despondency, as well as To Sleep Gently, Shadowboxer, The Day the Leash Gave Way and Other Stories, and A Crack in Melancholy Time. He was born in Santa Fe, New Mexico. He has lived in California, Oregon, Arizona, and Florida. He currently roams throughout the country aimlessly. He also loves basketball.
Available on Amazon: Kindle http://tinyurl.com/8xtnhm5 Paperback http://tinyurl.com/7znyzqb
&
Barnes & Noble Paperback http://tinyurl.com/7nrbo75
Notes to the editor: DESTINATION UNKNOWN by Trent Zelazny
Kindle Edition: publisher: ibooks size: 238kb price: $7.97
pub date: December 5, 201 ASIN: B006IL1YNC
Paperback: publisher: ibooks size: 9x6 pages: 156 price $17.95
Pub Date: December 15, 2011 ISBN-10: 1596879203 ISBN-13: 978-1596879201
###