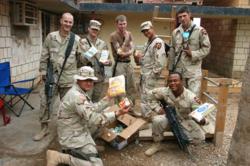 They are safeguarding our safety and our freedom … sending them these tokens of our nation's love and appreciation is the least we can do
Eden, Texas (PRWEB) December 19, 2011
The war in Iraq may be officially over, but plenty of United States servicemen and servicewomen in all branches of the military still won't be home this holiday season. With the country engaged in several operations throughout the Middle East and elsewhere, many soldiers and seamen of the U.S. Army, Navy, Air Force and Marines will be spending Christmas, Hanukkah and all of the other special moments of this holiday season away from their beloved family and friends.
Judith Leist of Eden, a professional musician and mother of four whose brother, U.S. Army PFC Lawrence Leist, was stationed at a base near Anwar Province until American forces pulled out of Iraq this week, wants to make sure all those men and women know how appreciated they are, and wants them to have the happiest holidays possible under the circumstances. So she's spearheaded a donation and collection effort aimed at assembling care packages for the troops.
"These brave soldiers are facing the toughest circumstances imaginable," Judith Leist said. "Not only are they performing incredibly difficult duty under very dangerous circumstances, but they're forced to be away from their wives, their husbands, their children and the rest of the families and friends on the days when families are supposed to be closest. They are safeguarding our safety and our freedom, risking their lives and often making the ultimate sacrifice, and sending them these tokens of our nation's love and appreciation is the least we can do."
In addition to collecting nonperishable foodstuffs and cash donations from her own friends and family, the intrepid philanthropist created the "Souvenirs for Soldiers" campaign that reached out to area churches and charitable organizations. She also enlisted the help of her daughters' elementary school, where young students created dozens of holiday-themed greeting cards to send to the troops, and also contacted the U.S. Postal Service and various local shipping companies to arrange price-friendly shipping options.
Through "Souvenirs for Soldiers," donors could either give actual items or simply donate cash to have a care package created on their behalf. All told, more than 400 packages have been created so far, including such items as home-baked cookies; warm socks and scarves; new and used books; toothbrushes, soap and other personal-hygiene sundries; teddy bears; pretzels and other snack foods; homemade Christmas ornaments and other holiday decorations; greeting cards and more.
"This was such a lovely idea," said Patrick Hogan, pastor of one of the local churches that took up the "Souvenirs for Soldiers" cause. "The work these men and women are doing overseas is never easy, but this is an especially difficult time for them, being away from their families during the holidays, when their hearts so badly want to be with the ones they love. Judith Leist should be commended for making this effort on their behalf. This is a level of care and consideration that goes above and beyond."
For her part, the woman behind the care-package campaign said she didn't do this so people would commend her efforts. She did it, she said, for her brother – who has been transferred to an undisclosed location in Kuwait to await his return to U.S. soil, likely sometime in January – and all the other servicemen and women still serving in Afghanistan and other foreign theaters.
"I did this for Lawrence and all the other soldiers who bravely volunteered to serve this country," Judith Leist said. "So many brave people were asked to put their lives on the line for the safety and security of us all. It's so important that those people never be forgotten … and what better time to remember them than the holiday season, when so much of our energy is focused on peace and love?
"Whatever you think about the war against terrorism, there's no doubt about the bravery and sacrifice these soldiers are making," Judith added. "And for that, during the holidays and at all times, really, they deserve our utmost gratitude."
About Judith Leist
Judith Leist is a musician and mother of four living in Eden, TX. Hailing originally from Glendale, Ariz., the self-professed "violin junkie" earned a bachelor's degree in music from the University of Phoenix and has performed in many venues nationally. An avid reader and fan of crossword puzzles, her other hobbies include tennis and antiquing.
###