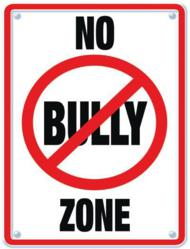 These mean children who think it's appropriate to behave like this will grow up to be mean adults, and raise new generations of bullies.
San Diego, California (PRWEB) December 24, 2011
Fourth- and fifth-graders at a local elementary school recently learned valuable lessons about the dangers of bullying and alternate forms of conflict resolution during a special assembly organized by local activist Judith Leist.
With cases of youth bullying all over the news these days, many leading to serious trauma (or worse) for the young victims, the mother of four has spearheaded a local effort to identify the patterns of harassment behaviors and give kids the tools they need to mitigate them.
Judith Leist's two elementary school-aged daughters have not been victimized by bullies, and neither were her two college-aged sons. But according to the mom, several of her daughters' classmates have been – and she wasn't going to sit around and wait for her girls to be picked on before doing something about it.
"Unfortunately, bullying is a big part of our society today, and that's especially true amongst children," Judith Leist said. "Whether it's traditional 'teasing' in a schoolyard or online taunting via social media like Facebook and Twitter, it's worse than ever. Our children face enormous social pressures to begin with, and now it's just too easy for cowardly tormentors to pick on gentler kids, without even having to do it to their faces."
The concerned mom cited one case in particular at her daughters' elementary school, involving an overweight classmate victimized by several kids both in person and online. Among the cruel jokes, she said, bullies have ganged up on the boy to humiliate him at bus stops, dumped piles of cafeteria leftovers in front of his locker, stolen his book-bag on several occasions and posted several videos on the Internet of the boy eating his lunch, under such crude titles as "Please Don't Feed the Animal." Those videos were quickly removed, Judith noted, but the damage had already been done.
Frustrated with the lack of response by the school, she banded together with three other parents, including the father of the boy being targeted, and approached both school district officials and local lawmakers to do something about it.
"This can be any kid," Judith Leist said. "It can be my kid. If we don't come together and address the problem as a community, eventually it will be all our kids. And these mean children who think it's appropriate to behave like this will grow up to be mean adults, and will raise new generations of bullies. It's a cyclical problem."
With the help of several township lawmakers, the concerned parents have formed a special commission to promote a positive dialogue about spotting and reacting to bullying behaviors, and to encourage alternative forms of conflict resolution. The goal, Judith noted, is to help students and school officials alike be more proactive on the issue.
Many of those school officials have welcomed the commission's input with open arms. "I have witnessed some of these behaviors myself," said a teacher at one local school, who asked not to be identified. "I think it's a tremendous thing that parents like Judith Leist have taken the initiative on this. When you see reports on the news of children committing suicide because they can't stand the pressure of being bullied, you know society has a problem – and society is going to have to work together on a solution."
The special assembly held last week was the first of several local schools are planning to host, giving the commission – which has grown to include parents, students, school officials and even a representative of the local police department's Community Relations Committee – several chances to address both bullies and victims directly.
"We learned about really important stuff," said one fourth-grader who attended the first assembly. "Making fun of someone can really hurt their feelings and make them feel bad. It's mean and kids should learn not to do it."
"It's our sincerest hope that discussions like these will help children understand how dangerous and damaging 'teasing' someone can be," Judith Leist said. "To some degree, the bullies themselves are victims – it's a lack of proper upbringing and guidance that's led them down this road. Hopefully, we can make them see that tearing down someone else is no way to feel good about yourself."
About Judith Leist
Marie Judith Bijoux Leist is a musician and mother of four living in San Diego California. Hailing originally from Glendale, Ariz., the self-professed "violin junkie" earned a bachelor's degree in music from the University of Phoenix and has performed in many venues nationally. An avid reader and fan of crossword puzzles, her other hobbies include tennis and antiquing.
###