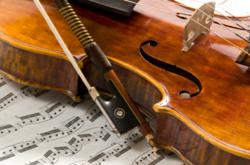 We're just there to sing some songs and make some sounds and let the joy of music take the edge off.
Atlanta, GA (PRWEB) December 28, 2011
School officials announced today that a successful after-school music program targeting less-fortunate children who might not otherwise have a chance to learn to play an instrument will be back this spring.
District officials will begin accepting applications for the second installment of "Judy's Jams," the popular program run by volunteer and accomplished musician Judith Leist, when schools reopen after the holiday break on Jan. 3. Sign-up sheets will be located in all main offices of district schools and at the district Board of Education office.
Music has always been a positive part of Judith Leist's life. The professional pianist and violinist has made a living performing in venues across the country, but she's also relied on her love of music for an inner calm that's shepherded her through the hardest moments of her life. Now, she's sharing that gift with underprivileged youth – if not gifting them the talent to perform for sold-out concert halls, at least delivering the notion that tone and melody can create a soothing internal peace.
"That's really what music is about, to me," Marie Judith Bijoux Leist said. "When I've had troubles in my life – and as a single mother of four, believe me, I've had troubles – music has always been there to help me relax and center myself, even if it's only for a moment. Music always reminds me that everything's going to be OK."
The mom, who's raising two elementary school-aged daughters and two college-aged sons, wanted others to enjoy that same experience. So, at the beginning of this school year, she approached officials in her daughters' school district to inquire about volunteering for an after-school music session that wouldn't necessarily produce great musicians, but might provide a good first step in helping children – especially those whose families couldn't afford more formal music lessons – understand the enlightenment music can bring.
Thrilled that a musician of Judith Leist's caliber would volunteer for such a program (she's performed with numerous touring companies and sat first chair, violin, with no fewer than three city orchestras), school officials jumped in. During the fall, "Judy's Jams" serviced as many as 25 kids per session, with youngsters taking cracks at everything from kazoos to the piano to the violinist's own acoustic Yamaha; now the program has been renewed for a second session beginning the first week of March.
"'Judy's Jams' was a resounding success," noted district music teacher Miriam Landingham. "Judith structured it differently than a traditional music class – which is to say there was very little structure at all. It was more about the fun of making music, and the kids really took to it. I have been teaching music for 30 years and I have to say, this was very impressive."
"I'm thrilled to come back this spring and do it again," Marie Judith Bijoux Leist said. "We had so much fun this fall. It's not about making great music … it's about relaxing. It's about laughing. It's about taking an hour out of the day where they don't have to think about schoolwork, or homework, or trouble they might be having with friends or at home. They don't have to think about anything but having a good time.
"If they learn a little bit about music along the way, that's terrific," Judy Leist added. "But we're just there to sing some songs and make some sounds and let the joy of music take the edge off."
That's not to say there aren't a few promising musicians sprinkled in the group. Identifying and training future soloists is not the main thrust of "Judy's Jams," but at least one participant has already taken things to the next level. Deshawn Boley, a fifth-grade classmate of one of Judith's daughters who'd never before taken a music lesson, showed instant promise on the piano – so much that Judith felt compelled to mention it to Deshawn's mother. Just three months later, Deshawn is a member of the elementary school band and is working hard toward a possible solo in the band's Spring Concert in May.
"I really like playing the piano," Deshawn said. "I never really played it before, but on the first day of 'Judy's Jams,' Ms. Leist let me try it and I really liked it. I learned two songs in an hour! She said I had real skills and told my mom."
Even if Deshawn never becomes a professional pianist, seeing his joy at realizing this new skill is exactly what she hoped to accomplish when she volunteered for this program, the musician noted.
"You can just see it means a lot to him, discovering this talent," Judith Leist said. "I remember when I was Deshawn's age and somebody stuck a violin in my hands. I knew that if I practiced hard I could play it very well, but I also knew that this skill, this love, was very personal: something that was mine and mine alone. To me, that was even more important than becoming a 'real musician' … knowing I could experience this inner joy whenever I wanted to, or needed to.
"If Deshawn or any of the kids in 'Judy's Jams' becomes a famous musician, that would be fantastic," Judith added. "But if each of them comes away with even a tiny sense of peace and appreciation for how wonderful music can be, then that's even more beautiful."
About Judith Leist
Marie Judith Bijoux Leist is a 51-year-old musician and mother of four. Hailing originally from Glendale, Ariz., the self-professed "violin junkie" earned a bachelor's degree in music from the University of Phoenix and has performed in many venues nationally. An avid reader and fan of crossword puzzles, her other hobbies include tennis and antiquing.
###