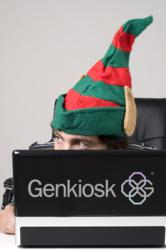 Last year our client thought an elf must be misusing a photo kiosk on December 25 - the store was shut! Until Genkiosk found out it was really a security guard printing a last minute Christmas card for his wife.
Sheffield, UK (PRWEB) December 21, 2011
Genkiosk is the most powerful kiosk management system in the world.
The kiosk software checks how well a self-service estate is performing and maximizes up-time and profitability.
This runs 24/7 from the Americas to Europe to the Middle East and the Pacific. But every year, Christmas, with the associated holidays, throws up a few surprises.
With the seasonal changes in staffing and usage, it is a chance for Genkiosk to identify issues that may be fogged during everyday activity.
So, this year, Genkiosk is setting out to seize the initiative. Extra monitoring will bring even greater clarity on performance - and identify opportunities to improve.
Jed Fraser, from GWD Media, the developers of Genkiosk, explains:
"Take 2010. We were monitoring an estate of photo kiosks - in a supermarket chain. The stores were closed on Christmas Day: the only time they ever shut. But Genkiosk detected a kiosk being used to print pictures. We were worried that the system might be misfiring. And our client thought it might be an elf on the loose! But we were able to pin it down to everyone's satisfaction. It turned out that a security guard had forgotten a Christmas card for his wife, and was secretly printing one out before he got home. Genkiosk did the job it was designed for: checking everything that is happening on the self-service kiosks. And our client was very impressed - although everyone would have liked to discover an elf!"
All over the world you will find more and more self-service kiosks.
They offer standalone services to end-users.
Like:

bill payment
Internet access
retail
money transfer
photo printing
Wi-Fi hotspots
information display
and anything else where people benefit from quick easy access to what they require.
These estates of self-service kiosks are growing in functionality and reach.
Why? Because the technology is increasingly available to:
provide end-users with these standalone services wherever they are in the world
deliver commercial returns to the operators and site-owners who run them.
It is like providing a retail operation, but with:
increased availability
better profitability (especially with reduced costs for staffing).
Genkiosk, from GWD Media was first developed to run and manage pay-as-you-go Internet kiosks.
It has now grown to cover the full range of self-service applications.
After launching in Europe, Genkiosk expanded first to the Americas, then the Middle East and beyond, going global via multinational customers and now with direct clients all round the world.
Genkiosk is now delivered via the Cloud, maximising service and availability in every region of the world.
VeoVend, the sister of Genkiosk, provides the same monitoring and management services for more traditional vending (snacks, drinks, beverages, retail.) A hardware plug-in, with a mobile phone SIM, gives online access to even the most basic vending machine.
GWD Media is headquartered in Sheffield, UK, and operates worldwide.
Key markets include Europe and the Americas, with the Middle East, Asia and Australasia rapidly growing.
For more information, check http://www.genkiosk.com
###