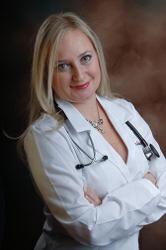 You'll find more and more health and fitness magazines writing articles about the importance of physical exams in improving and maintaining health,
New York, NY (PRWEB) December 21, 2011
Upper East Side doctor, Dr. Marina Gafanovich is part of the preventative care movement in the health industry that promotes education and disease prevention techniques. Her practice philosophy revolves around educating patients in healthy lifestyles and wellness activities. This holiday season Dr. Gafanovich would like to promote the Centers for Disease Control's Holiday Health Drive by promoting their: Million Hearts Initiative, as well as, warn her patients about issues related to holiday travel.
"Family members worry about loved ones who are at risk for heart disease or stroke," said Janet Wright, M.D., executive director of Million Hearts. "When someone pledges to learn how to improve their health, we show respect for ourselves and the lives we share with others. Nothing shows our love like actions that allow us to enjoy the seasons together for years to come."
The CDC hopes that this program will prevent 1 million heart attacks and/or strokes across the US over the next 1 to 5 years. Part of the pledge is to accept responsibility for health and embrace a healthier lifestyle with a focus on wellness.
Dr. Gafanovich's Upper East Side physician's practice specializes in creating healthy living plans and wellness programs for all her patients. She believes that regular physical exams are essential to discovering minor health issues before they grow into major problems. "You'll find more and more health and fitness magazines writing articles about the importance of physical exams in improving and maintaining health," she tells us. "Catching the warning signals for heart disease is invaluable. Looking for clues and warning signs for future problems is an important part of what I do as a doctor. So many chronic issues in older men and women could have been prevented or diminished had they changed just a few details of their lives when they were younger."
Most Physicians in New York who specialize in internal medicine will provide some sort of preventative care, but not all do so with the zeal and almost religious devotion to it of Dr. Gafanovich.
"My practice was handed down to me by two doctors who were great believers in an integrated, humanist approach to medicine. They believed that the practice of medicine had become more about putting out fires than preventing them. I knew when I took over the practice that I had a duty to both my patients and these two men who gave me such an important foundation in approach," she says. "I decided that I would always treat people, not diseases."
This humanist approach to medicine is exactly what patients will find at the Upper East Side physicians office of Dr. Gafanovich. Short wait times, friendly and compassionate service, and a doctor that cares about the lives of her patients.
Dr. Marina Gafanovich is a board certified internist practicing in the City of New York. She has attending privileges at both New York Hospital Weill Cornell Medical Center and at North Shore University Hospital. She has been ranked a #1 Internist in New York by prestigious consumer opinion organizations like "Health Grades", "Wellness", "Avvo", and "CitySearch".
Her office is located on 1550 York Avenue, New York NY 10028. She may be contacted by dialing: (212) 249-6218. http://www.mynycdoctor.com
###