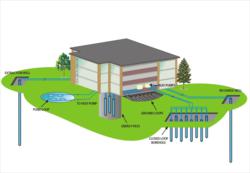 (PRWEB UK) 20 December 2011
Based in Coventry, Geothermal International is Europe's largest designer and installer of Ground Source Heat Pump systems. As an industry pioneer, it has been behind some of the most advanced projects ever undertaken including the UK's largest "closed loop" ground source heat pump (GSHP) system, and the world's largest "lake loop" GSHP system.
Space heating accounts for a significant proportion of Europe's carbon footprint, and as governments increase their focus on reaching carbon emissions targets at the lowest possible cost, we expect a continued trend towards low cost emission reduction technologies such as GSHP.
Geothermal International is extremely well positioned to take advantage of this expanding market. It has an unparalleled track record and expertise, built over a decade of growth. It has strong relationships with both public and private sector clients across Europe, and solid plans for further expansion, backed by Novusmodus' support.
In addition to its environmental benefits (a reduction of energy usage and CO2 emissions by 50%), GSHP systems have significant financial advantages over other commercial heating technologies. Even against the most cost effective conventional heating systems, Geothermal International's technology has a short payback period and a significantly longer life of over 50 years. Furthermore, because the system consumes no, it represents a significant hedge against future energy price fluctuations.
Part of the capital will be used to finance the acquisition of Endurant Energy, a designer and installer of Combined Heat and Power ("CHP") systems in the US. The combination with Endurant will give Geothermal International the ability to offer combined GSHP and CHP system solutions, and it will provide the company with a network of offices and an experienced contracting team to further accelerate its recent successful entry into the US market.
Bertrand Gautier, Novusmodus partner, said:
"Geothermal International is a world class company with a superb future. It is the clear leader in both the UK and European GSHP sectors and is well positioned in international markets to expand rapidly. GI has set industry benchmarks as a pioneer in the large scale GSHP market, and we look forward to helping it to accelerate this growth."
Brian Davidson, CEO of Geothermal International said:
"We are delighted with the investment from ESB Novusmodus, a partner that understands the transformation we are effecting. With our latest acquisition in the US, the beginning of the RHI in the UK, and further regulatory benefits on the horizon, it is an exciting time for Geothermal International and for the industry as a whole."
About Novusmodus – http://www.novusmodus.com
Novusmodus LLP is an investment firm whose aim is to provide capital, support and knowledge to companies and projects in the renewable and cleantech sectors. It is based in London, Dublin and Munich, and has a European focus, but a global mandate.
It is the investment adviser to ESB Novusmodus, a €200m fund established by ESB, the leading Irish utility. Through this unique relationship, it has direct access to ESB's wealth of technical knowledge, engineering skills and commercial experience, the benefits of which it passes on to its investment partners.
Existing investments include Nualight, Airvolution, InTune Networks, Lumicity, SELC, and Wind Energy Direct.
About Geothermal International Ltd – http://www.geothermalint.co.uk
The company provides a turnkey low carbon and green solution for the design, installation and commissioning of Ground and Air Source Heat Pump systems. GSHP/ASAP systems provide renewable energy efficient heating and cooling for commercial and residential buildings.
Established in 2000 and headquartered in Coventry and Stirling, the company has built a unique market leading position within the heat pump sector, designing and installing over 180MW of capacity within the commercial buildings sector.
Currently, Geothermal International provides a number of GSHP/ASAP systems that are suitable for installation in a diverse range of buildings, from hospitals to schools to office developments, to industrial warehousing to residential homes. Regardless of size or complexity, each project is approached on an individual basis and is managed through to completion using the company's comprehensive, quality service. Part of the company's after sales service includes a maintenance package that warrants the output of the system installed. The company now offers project finance solutions within the private and public sectors.
Appendix - Ground source heat pumps
GSHPs are well proven systems to heat and cool buildings. Cold water is pumped into the ground where it is warmed up by ground temperature, returning a little warmer to a heat pump. The heat pump extracts this heat and delivers it to the building before returning the cold water to the ground. To cool the building the cycle is simply reversed with warm water flowing in the ground and cold in the building Heat extraction from the earth can take several forms, as shown above (i.e. pond loop, deep open borehole, closed loop boreholes, etc.), but the principle is the same.
Today's GSHP installations have a COP of 3-6, i.e. for 1 unit of electricity the heat pump extracts 3-6 units of 'free' energy from the solar energy stored in the ground (in form of heat). GSHP will use 25-50% less energy than conventional heating, and can reduce carbon emission by up to 50%.
###