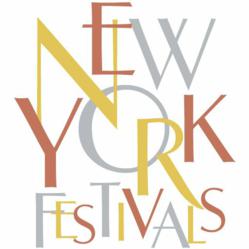 "The 2012 Jury is tremendous, some of the best creative minds the industry has to offer," said Michael O'Rourke, President New York Festivals.
New York, NY (PRWEB) December 19, 2011
New York Festivals International Advertising Awards has announced the appointments of the first round of the 2012 Executive Jury. For the second year in a row, NYF will assemble the "dream team," an elite group of Worldwide Creative Officers to select the World's Best Advertising™. The NYF Executive Jury convenes in New York City April 28th through May 2nd, concluding with the New York Show awards presentation on Thursday, May 3rd, 2012. Additional Executive Jury Appointments are forthcoming.
The first round of Executive Jury Members includes:

Pete Favat, Chief Creative Officer, Arnold Worldwide USA
Lee Garfinkel, Chief Creative Officer Global Brands, Euro RSCG USA
Tony Granger, Global Chief Creative Officer, Y&R USA
Prasoon Joshi, Global Creative Head, McCann Worldwide India
James McGrath, Chief Creative Officer, Clemenger BBDO Australia
Ben Priest, Co-Founding Partner, Adam & Eve UK
Erik Vervroegen, International Creative Director, Publicis Worldwide France
Jean-Remy von Matt, Founder/Chairman, Jung von Matt Germany
In 2011, for first time in the history of the advertising competition, New York Festivals gathered an impressive group of Worldwide Chief Creative Officers from the world's top ad agencies to participate on the live Executive Jury. The Executive Jury was moderated by Donald Gunn, founder of the The Gunn Report. This year, Gunn will reprise his role as moderator, and will be joined by Michael Conrad, President of the Berlin School of Creative Leadership.
The Executive Jury evaluates every shortlisted entry selected by the online Grand Jury. The Grand Jury is comprised of 300 International Creative Directors, making it the most diverse jury of any advertising competition in the world. They will select the ads that earn a place on the shortlist from the first two rounds of judging. During live judging sessions in New York City the Executive Jury will select the entries that earn awards from this shortlist.
"The 2012 Jury is tremendous, some of the best creative minds the industry has to offer," said Michael O'Rourke, President New York Festivals. "Assembling a jury of this caliber and creating a judging process by which the Executive Jury evaluates entries across all mediums is unique, and more importantly representative of the advertising world today. Adding Donald Gunn and Michael Conrad as jury moderators to oversee the proceedings is something that we feel will benefit the industry immensely."
The New York Show, NYF's 2-day series of events, begins on May 2nd and will feature creative panel discussions, keynote speakers, networking events, the 2012 Executive Jury Press Conference, exhibits, and the May 3rd International Advertising Awards ceremony. All New York Show events and the 2012 awards gala will take place at the landmark New York Public Library Beaux-Arts building located at 455 Fifth Avenue, at 40th Street in New York City.
This year, New York Festivals International Advertising Awards streamlined the competition for efficiency, resulting in a 43 % reduction in categories across all competitions. The competition receives entries from 70 countries and recognizes work in all media in the following competitions: Art/Technique + Technology, Avant-Garde, Collateral, Commercials, Design, Interactive, Hispanic USA Advertising, Integrated Mixed Media, Marketing Effectiveness, New Commercial Director of the Year, Outdoor/Out of Home, Print, Public Relations/Brand Communications, Public Service Announcements, and Student.
The NYF International Advertising Awards early Discount Deadline is December 16th, and the Final Deadline is January 27th, 2012. For more information, or to enter go to: http://www.newyorkfestivals.com/main.php?p=2,10
All winning entries in the New York Festivals International Advertising Awards competition will be featured at: http://www.newyorkfestivals.com.
All press inquiries should be directed to Gayle Mandel: gmandel(at)newyorkfestivals(dot)com. Ph: 1 212 643 4800.
About International Awards Group Founded in 1957, IAG organizes advertising and programming competitions for the following brands: AME Awards for Advertising Marketing Effectiveness; Midas Awards for Financial Services Communications; The Global Awards for Healthcare Communications; NYF Advertising Awards; NYF Television & Film Awards; and NYF Radio Programs & Promotions. Entries to each of the competitions are judged around the world by panels of peers in their respective industries. For more information, go to http://www.newyorkfestivals.com.
###