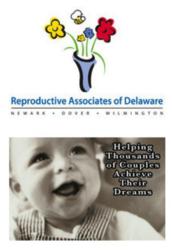 Many women are failing IVF, or possibly don't even need IVF, because their underlying disease was not diagnosed or treated thoroughly.
Newark, DE (PRWEB) December 19, 2011
Fertility doctors at Reproductive Associates of Delaware (RAD) are alarmed about the rising tide of unsuccessful in vitro fertilization (IVF) treatments occurring throughout the United States and the world, and are recommending closer diagnostic scrutiny of patients who have failed IVF or are pursuing IVF unnecessarily. They have initiated a new pilot program called FITS — Failed IVF, Trial of Surgery.
"IVF is an important and successful treatment for those who truly require it," stated Ronald F. Feinberg MD, PhD, a reproductive endocrinologist who has directed RAD's IVF Program since 1997. "But many women are failing IVF, or possibly don't even need IVF, because their underlying disease was not diagnosed or treated thoroughly."
Several common diseases can block embryo implantation and hurt pregnancy chances, including endometriosis, uterine polyps, fibroids, and diseased fallopian tubes. Pelvic adhesions can also restrict blood flow to the ovaries and interfere with normal egg development. Prior cesarean sections and other major surgeries can often cause adhesions, leading to infertility. Numerous published studies have shown that minimally invasive, outpatient treatment by highly experienced surgeons performing hysteroscopy and laparoscopy will often enhance fertility or eliminate infertility.
"Most women have infertility because of these problems, but many IVF centers tend to minimize this information," stated Barbara A. McGuirk, MD, also a reproductive endocrinologist and director of RAD's reproductive surgery program since 1995. "When we perform detailed and thorough evaluation of the uterus, ovaries, fallopian tubes, and pelvic structures we frequently identify and treat diseases causing infertility. Our approach includes an expert 2-physician team, excellent anesthesia, and surgery performed through tiny openings in the skin that don't require stitches."
According to the Centers for Disease Control (CDC), many female infertility cases are 'unexplained'. "Unexplained infertility in women is often really unexplored infertility," noted Dr. McGuirk, "and we find that many women and babies are being shortchanged and harmed by premature pursuit of IVF treatments. Many of our patients who might have been pushed into IVF elsewhere are actually able to become pregnant at our center without IVF."
The RAD team anticipates that their FITS pilot program will help estimate the scope of the problem related to unsuccessful and unnecessary IVF treatments. Their goal is to identify patients who have been unsuccessful with IVF outside of RAD and have not had underlying diseases evaluated or thoroughly treated. The RAD team is particularly interested in evaluating women before or after IVF who have been labeled with 'unexplained infertility'.
As part of the FITS program, prior treatment records will be carefully reviewed and those patients interested in FITS will be thoroughly informed about their options for enhanced diagnosis and treatments. Results from the program will be compiled in an ongoing fashion. One future goal is to perform a prospective study evaluating the impact of FITS on fertility outcomes.
IVF outcomes are submitted and published by most U.S. clinics in conjunction with the CDC for the public to read. "Some of the CDC data is misleading," noted Dr. Feinberg, "because it is very difficult to know which patients truly needed IVF versus those who could have benefitted from non-IVF treatments. Patients who achieve pregnancy following hysteroscopy and/or laparoscopy are not included in the CDC data."
Of all IVF pregnancies achieved in Delaware, 85% were conceived at RAD's center based on analysis of published CDC data. Many of these successful and lower risk singleton pregnancies encompassed the FITS care model, since RAD's results included many patients who had previously failed IVF elsewhere. As additional evidence for enhanced embryo implantation, RAD's single embryo blastocyst transfer approach has consistently yielded many pregnancies and one of the lowest multiple gestation rates in the U.S.
The RAD group is also actively evaluating chromosome abnormalities in blastocysts that appear normal, but likely lead to failed implantation or miscarriage. Their success and outcomes with preimplantation genetic screening (PGS) have been presented at national meetings in 2010 and 2011 of the American Society for Reproductive Medicine (ASRM).
The RAD physician team has two other reproductive endocrinologists — Dr. Adrienne Neithardt and Dr. George Kovalevsky — and the four doctors consult with patients daily at three different locations in Delaware — Wilmington, Dover, and within their main offices and IVF center in Newark on the campus of Christiana Care Health System. The doctors are also attending physicians and active educators for Christiana Care obstetrics/gynecology residents and Jefferson medical students.
###