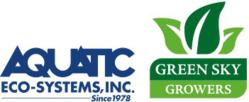 Apopka, FL (PRWEB) December 22, 2011
Aquatic Eco-Systems, Inc. (AES) of Apopka, FL held its first Aquaponics Workshop from November 30, 2011 to December 3, 2011. The "Institute of Sustainable Farming: Aquaponics Technology and Design Workshop" was conducted by Aquatic Eco-Systems' AES University. The three and a half day workshop featured informative presentations, multiple facility tours and hands-on instruction with AES staff members and special guest, Dr. James Rakocy, the "Father of Aquaponics."
The class of over 25 attendees traveled to Florida from as far away as France and Morocco. They listened intently to the various presentations given by Dr. Rakocy and experts from AES. A visit to AES-owned Green Sky Growers, a state of the art rooftop aquaponic and hydroponic facility located in Winter Garden, FL, was a highlight of the workshop for many attendees. The attendees also toured the aquaponics system that was constructed behind the 130,000 sq. ft. Aquatic Eco-Systems facility in Apopka, FL. The AES Aquaponic System is a variation of Dr. Rakocy's famed UVI Aquaponic System. It was clear that for the attendees, actually seeing and examining what they had been learning about in lectures was an inspiring and exciting experience for them.
The success of their recent workshop has prompted Aquatic Eco-Systems to schedule their next round of Aquaponics training. From March 28 - 31, 2012, Dr. James Rakocy and Dr. Wilson Lennard, two of the great minds in the Aquaponics industry, will join forces along with the Aquatic Eco-Systems staff, to teach another three and a half day workshop with AES, located in the Orlando area. Because there will be two expert guest speakers, Aquatic Eco-Systems plans to increase the size of the class to accommodate those who are interested.
In a statement about the AES workshop, Dr. Rakocy said, "Teaching at the aquaponics course sponsored by Aquatic Eco-Systems (AES) was a real treat for me because AES employees have an incredible depth of experience and knowledge that they share with their students as they guide them through all phases of constructing and operating an aquaponic system to establish a successful hobby or business."
Anyone interested in more information regarding the March 2012 Aquatic Eco-Systems Aquaponics Workshop is urged to email, Ponics(at)AquaticEco(dot)com.
Among others, this workshop is slated to cover the following topics:

Status of Aquaponics
Aquaponic Principles
Development of the UVI system
Design and Operation of the UVI system
Design and Construction of AES's system and Equipment Selection
Daily Operation of AES's system
Engineering
Water Quality
Plant and Fish Production
Marketing
Economics of Aquaponics
Fish and Aquatic Animal Selection
Hands-On Instruction
Pumps, Blowers and PVC
Water Quality
Fish Handling
About Dr. James Rakocy: Known as the "Father of Aquaponics," James Rakocy obtained his PhD in aquaculture from Auburn University in 1980. He then became the Director of the University of the Virgin Islands (UVI) Agricultural Experiment Station and a Research Professor of Aquaculture. He has since retired, but his research at UVI concentrated on the development of production systems for tilapia that conserve and reuse water and recycle nutrients. During his time at UVI, Dr. Rakocy and his colleagues developed aquaponic and biofloc systems, which intensify production and utilize dissolved nutrients for hydroponic vegetable production and solid organic waste for the production of field crops. Dr. Rakocy now lives in Thailand and travels the world teaching the principles of Aquaponics.
About Dr. Wilson Lennard: "Wilson Lennard (PhD) (Director) has been studying aquaponics for the past 10 years. He is a PhD graduate from Australia (RMIT University, 2006) with practical commercial aquaponics experience and knowledge. Wilson's PhD centered on optimizing the aquaponic process in terms of maximum plant growth and nutrient removal for the Australian Murray Cod fish species and the Green Oak lettuce variety… In addition to this aquaponic experience, Wilson also has scientific and engineering skills and experience in associated aquatic disciplines, including freshwater aquaculture, marine aquaculture, hydroponics, integrated aquatic farming systems, freshwater aquatic ecology and environmental biology. These skills and experience have been accumulated over a professional scientific career of almost 20 years" (Credit: Dr. Wilson Lennard).
Aquatic Eco-Systems, Inc. (AES) of Apopka, FL, is the largest source of aquatic products and systems worldwide. Since it was founded in 1978, AES has offered unmatched selection, service and solutions to the aquatic community. With over 13,000 products, AES serves a variety of aquatic interests and industries, from aquaculture and lake management to aquariums and water gardens. AES staffs over 20 technicians and biologists to provide service, expert advice, troubleshooting and custom design solutions to hobbyists and professionals alike. For more information, visit AquaticEco.com or call 407-886-3939.
PR Contact - Bruce Vizueta: Office: 407-886-3939, Ext. 164.
# # #