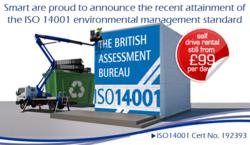 As a responsible organisation we are continually striving to minimise the impact of our operations on the environment and create a healthier working environment for our employees
(PRWEB UK) 21 December 2011
Smart Platform Rental Limited, which is the UK's largest provider of self-drive rental light truck mounted platforms, has been awarded the environmental management standard ISO 14001 in recognition of its commitment to running an environmentally-friendly business.
The award, which comes only months after achieving certification to ISO 9001:2008, further exemplifies Smart Platform's commitment to investing in its quality management systems. The process comprised an initial assessment followed by two audits. These were carried out by British Assessment Bureau, a globally recognised and independent third-party accreditation body.
ISO 14001 is an internationally recognised standard for environmental systems. It enables organisations to measure the impact on the environment from its activities, services, products and people. One of the primary requirements for certification was to compile to a comprehensive list of environmental aspects associated with Smart Platform Rental's operations and identify those that can cause the most significant impacts to the environment. The key objectives of Smart Platform's environmental system focus on managing its energy consumption and the disposal of waste.
Commenting on the achievement, Smart's QA Manager Lee Williams said: "After gaining ISO9001 accreditation earlier on in the year, we're very pleased to have achieved ISO 14001. As a responsible organisation we are continually striving to minimise the impact of our operations on the environment and create a healthier working environment for our employees".
"Although we are classed as a low risk business, it is still important for us to focus on energy management and how we dispose of waste like card, paper and vehicle consumables including oils and batteries", emphasised Williams. "This standard provides a benchmark against which we can make even further improvements year-on-year and also a focus for keeping on top of changing legislative requirements."
For more information on Smart's accreditations please click HERE.
###