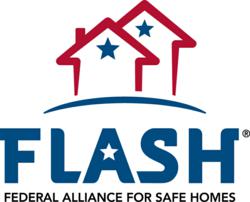 In advance of forecasted severe winter weather in the Southwest, the Federal Alliance for Safe Homes (FLASH) offers families tips on what they can do NOW to make sure their home and family is ready.
Tallahassee, FL (PRWEB) December 19, 2011
With low temperatures, heavy snow and potential loss of power forecasted in the coming days, the Federal Alliance for Safe Homes (FLASH®) encourages families to take these steps to prepare themselves and their homes for the forecasted severe winter weather and make plans now to stay safe during the storm.
Before the Storm

Prevent frozen pipes. Below freezing temperatures increase the risk for frozen pipes with the
potential to cause major water damage to homes.
- FOAM: Insulate pipes exposed to the elements or cold drafts
- DOME: Place an insulating dome or other coverings on outdoor faucets and spigots
also reduce the likelihood of the water in pipes inside the home from freezing,
expanding and causing a costly leak
- DRIP: Allowing a slow drip from faucets, reduces the build-up of pressure in the
pipes. Even if the pipes freeze, enough pressure has been released from the water
system reducing the likelihood of a rupture

If purchasing a new space heater, only buy an electric heater that has been tested and
labeled by a nationally recognized testing company like Underwriter's Laboratory (UL). Also,
look for a heater with modern safety features like an automatic shut off feature if the heater
is tipped or turned over

Prepare outdoor areas in advance of the storm to possibly reduce the amount of work that
be needed after. Lay down a layer of deicing sand/salt to minimize the buildup of ice and
snow

Be sure to have emergency supplies on hand including:
- Water and extra non-perishable food
- Batteries
- NOAA Weather Radio
- Portable AM/FM Radio
- Flashlights
- Extra Medicine and Baby Supplies
- Blankets and/or Sleeping Bags
- Sidewalk Salt
- Snow Shovel
- First Aid Kit
- Plenty of fuel for heaters (wood, kerosene, propane, etc.)
During the Storm
Always use a metal mesh screen if using a wood-burning fireplace. Never leave a fire
unattended and be sure to extinguish the fire before going to bed or leaving the house

Use space heaters safely. Be careful to keep children and pets away and set up heaters at
least three feet away from flammable materials

- Limit the number of rooms in use to preserve warmth. Close off the heat to unused
rooms, close doors and seal with towels under the door to keep the rooms you and
your family will use warmer
- Use flashlights rather than candles
- If you are using a gas heater or fireplace to stay warm, be sure the area is properly
ventilated.
- Go to a designated public shelter if your home loses power or heat during periods of
extreme cold. Text SHELTER + your ZIP code to 43362 (4FEMA) to find the nearest
shelter in your area (example: SHELTER 12345)

Stay inside if at all possible. If you must go outside of your home, dress in several layers and
be on the lookout for signs of frostbite
These and more valuable winter preparedness tips are available from the FLASH Great Winter Weather Party, a fun, new family-friendly website and social media campaign aimed at better preparing families and their homes for winter weather hazards. Visit http://www.greatwinterweatherparty.org for more information.
About FLASH
Federal Alliance for Safe Homes (FLASH)®, a 501(c)3 nonprofit organization, is the country's leading consumer advocate for strengthening homes and safeguarding families from natural and manmade disasters. FLASH collaborates with more than 100 innovative and diverse partners that share its vision of making America a more disaster-resistant nation including: BASF, Federal Emergency Management Agency, Florida Division of Emergency Management, The Home Depot®, International Code Council, Kohler Power Systems, National Weather Service, RenaissanceRe, Simpson Strong-Tie®, State Farm®, USAA® and WeatherPredict Consulting Inc. In 2008, FLASH opened the interactive weather experience StormStruck: A Tale of Two Homes® in Lake Buena Vista, FL. Learn more about FLASH and gain access to its free consumer resources by visiting http://www.flash.org or calling (877) 221-SAFE (7233). Also, get timely safety tips to ensure that you and your family are always well protected from natural and manmade disasters by subscribing to the FLASH blog – Protect Your Home in a FLASH.
###