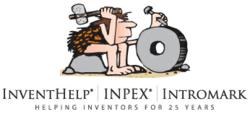 Pittsburgh, PA (PRWEB) December 23, 2011
InventHelp®, America's largest invention submission company, announces that one of its clients, an inventor from Ohio, has designed a unit for Motion Control (MC Walker) orthotic boots that would ensure one's foot and toes are properly protected. This invention is patented.
The "C.E.B. Protector" box-like sleeve would include a steel toe, which would attach to an MC Walker via straps. The design could help an individual to continue to work or return to work quickly following a foot injury or surgery, according to the inventor. The durable construction would provide foot-injury patients and their physicians with peace of mind should they opt to continue to work.
C.E.B. Protector would consist of a box-like unit that would be composed of reinforced plastic. The unit would feature an open rear portion and an open bottom to allow it to slip over the user's toes. The device would measure 2 inches high, 3-1/2 inches long and 5 to 5-1/2 inches wide. A strap would run along the bottom of the box to secure the device to the user's foot. An additional strap would be used to secure the box to the orthotic boot. A steel toe box would be positioned inside the unit and the underside of the toe box would be lined with moleskin for comfort. A welded, mounted bracket would be attached to the steel toe. The bracket would attach to the reinforced, plastic, box-like unit and would be held in position with bolts and nuts on either side. To operate, a user would slide one's foot into the box-like device so that the bottom strap is underneath the foot. Next, a user adjusts the device so that the toe box covers the toes. The user then would wrap the secondary strap around the front of the box-like device and the rear of the orthotic boot and attaches the strips of hook-and-loop fasteners.
InventHelp® is attempting to submit the invention to companies for review. If substantial interest is expressed, the company will attempt to negotiate for a sale or royalties for the inventor. For more information, telephone Dept. 07-BGN-3394 at (800) 851-6030.
Manufacturers interested in reviewing additional inventions and new product ideas can contact InventHelp's marketing partner Intromark by filling out an online request to review new product ideas here.
# # #