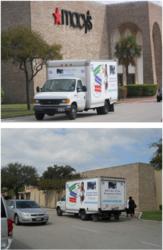 We are seeing large prepaid card signup increases in a handful of cities including Atlanta, Chicago and New York, but Houston stands out.
(PRWEB) December 20, 2011
Rising fees may be chasing millions of people away from banks, but Houston's unbanked shoppers aren't letting that stop them. Plastyc, a leading provider of prepaid card services, reported today a 93 percent increase in new signups in Houston in November 2011 compared to the same period last year.
"We are seeing large prepaid card signup increases in a handful of cities including Atlanta, Chicago and New York, but Houston stands out," said Plastyc CEO Patrice Peyret.
Peyret attributes the jump to Houston's economic conditions and to a recent local marketing campaign. After noticing high signup rates in Houston earlier this year, Plastyc invested in a two-month advertising campaign that completed last week. The campaign included UPside Visa prepaid card ads on local television and signage around the Houston area. Plastyc focused on Houston neighborhoods where people were signing up for the UPside Visa the most, including West University Place, Houston Heights, Southside Place, Harrisburgh, Jacinto City and Eastwood. Due to the high response rate from the recent campaign, Plastyc plans to be back with another campaign in the spring, Peyret said.
The jump in Houston signups makes sense in light of the Texas economy. According to the Texas Department of Banking, Texas has the lowest credit scores in the United States, and 36 percent or 3.2 million households are unbanked, placing Texas at 41 out of 50 states for the highest number of unbanked households. For these reasons, credit cards and traditional bank accounts are out of reach for many shoppers.
For the unbanked, the UPside Visa prepaid card is a great substitute for cash, offering a safe and secure way to make purchases and payments. The card has low, easy to understand fees, especially compared to other prepaid cards and even checking accounts at most banks. Users prepay funds directly to the card and can pay bills or buy merchandise in the same places that accept bank-issued Visa debit cards, allowing shoppers the flexibility of a card without the risk of running up debt. Consumers can also save time and money avoiding check cashiers and loading their funds directly on to the UPside Visa Prepaid Card.
"When you don't have a credit card or even a traditional bank debit card, how do you pay for holiday purchases?" said Peyret. "A reloadable prepaid card, if the services are good and the fees are low, can be a great way to shop."
UPside Visa is also an alternative for recipients of government benefits who need an efficient way to receive their child support payments, food stamps or unemployment benefits. And UPside Visa card holders can receive their tax refunds from the Internal Revenue Service (IRS) issued directly to their UPside Visa card.
###