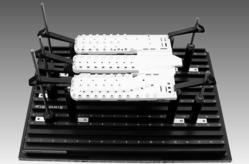 We are able to quickly build CMM fixtures for 99% of all the parts that come through our shop. This is critical for a short-run and rapid prototype service company like us.
Paul Kwiakowski, owner of Matrix Metalcraft.
Olivet, Michigan (PRWEB) December 21, 2011
FixLogix LLC has released two new training videos on their website and YouTube demonstrating simple concepts for building modular CMM fixtures. The quick training videos demystify basic CMM fixture construction, demonstrating fixture builds for stampings, forgings, a tube assembly with compound angles, and a molded plastic appliance part. The concepts shown are relevant to a wide variety of part shapes and materials, utilizing proven locating schemes such as the 3-2-1 method.
FixLogix has changed the game for the CMM fixture industry. Legacy modular fixture systems for a 2' x 2' volume would typically cost 4K – 5K. A FixLogix system for the same volume costs $1400.00, and offers a highly functional system that for most applications is simpler to implement.. The kit is comprehensive such that the vast majority of part shapes and types can be adequately staged for inspection using the components in the standard kit. The content of the system is 95% + produced in Michigan.
FixLogix applies modern T-slot structures to modular CMM fixture technology. FixLogix T-slot fixture plates are marked with laser engraved reference scales along the T-slots, and each T-slot is also alpha-identified. This provides clear documentation of the fixture setup for easy repeat setups. A major advantage of the T-slot system is multi-axis infinite positioning of components. This simplifies fixture construction by easily allowing the fixture to be "built to the part", placing locators where they don't interfere with datums or critical part features. In turn this reduces the average time required to assemble part-holding fixtures.
The FixLogix component kit utilizes ¼-20 threaded components, and is cross-compatible with many other fixture systems, and is also cross-compatible with the FixLogix fixture systems for vision systems and optical comparators. The much lower cost point of the system allows for effective implementation in a variety of other coordinate metrology applications. Users of portable coordinate inspection systems such as articulating arms, white light, and laser scanners have found the fixture system to be very helpful. The system is available in English or Metric versions.
FixLogix LLC was formed in 2007 to produce and sell modular fixture systems for metrology, and other light duty part-holding applications. The company also produces modular fixture systems for vision systems, optical comparators, and laser scanners. The company maintains an
E-commerce website, and takes most major credit cards.
###