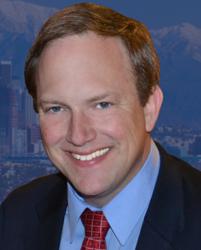 I hope you will join me in endorsing Steve Ipsen for LA County District Attorney in 2012.
Los Angeles, CA (PRWEB) December 21, 2011
Steve Ipsen, founder and eight term past president of the nation's largest prosecutors union and candidate for Los Angeles District Attorney in 2012, has secured the endorsements of prominent victims' rights leaders from the largest victims organizations in Southern California. A 25 year veteran prosecutor in the Los Angeles District Attorney's office, Steve has served for nearly a decade as an advisory board member to victims' rights groups across the State. He was a ballot signator for Jessica's Law passed in 2006 and co-author of Marsy's law passed in 2008 by the voters in California.
Marcella Leach co-founded Justice for Homicide Victims after her daughter Marsalee "Marsy" Nicholas was murdered in 1983. "I am forever grateful that my son Nick and Steve partnered to write Marsy's Law, the most comprehensive Victim's Bill of Rights in the United States. I whole heartedly endorse Steve Ipsen for Los Angeles District Attorney," she said.
Saul Zavala, whose daughter Jessica Zavala and niece Olivia Munguia were murdered in Lynwood on their way to school in1999, is the Spanish chapter leader of Justice for Murdered Children. Savala said, "Steve Ipsen will make a significant difference to the Latino community in Los Angeles. He is fair minded and truly the 'People's Prosecutor'." Patricia Wenskunas is the CEO and founder of Crime Survivors and Crime Stoppers of Orange County. "I hope you will join me in endorsing Steve Ipsen for LA County District Attorney in 2012," says Wenskunas.
Shari Martin, whose son Marshall was murdered in Lancaster in 2002, is the Antelope Valley chapter leader for Parents of Murdered Children. "Steve is the only candidate that addresses the dangerous early release policies of our massively over-crowded jails and prisons," says Martin. She supports Ipsen's "Reform First" approach to criminal justice that employs risk assessment criteria to prioritize jail space for dangerous criminals, and diverts non-violent offenders into rigorous work, community service, job training or drug rehabilitation programs in order to stop recidivism and escalation to violent crime. Ipsen states, "We have known about the prison overcrowding crisis for some time and the AB 109 realignment is only a partial solution. 'Reform First' addresses overcrowding issues and prioritizes violent crime to prevent early release of dangers criminals."
Also endorsing Steve are Janette Chavez, a victims' rights advocate whose 16 year old daughter Samantha Salas was murdered in 2008 in Monrovia, California; and Lawanda Hawkins, founder and president of Justice for Murdered Children, whose only son Reggie was murdered in the South Bay in 1996.
More information about Steve Ipsen for Los Angeles District Attorney 2012 can be found at http://www.SteveIpsen.com
###