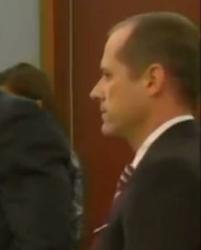 I don't think anybody disputes Shawley's character. The jury didn't dispute it.
Las Vegas, NV (PRWEB) December 22, 2011
Last Thursday, Dec 15, 2011, ex-Navy SEAL Luke Shawley was sentenced after being found guilty by a jury last August for seven charges of battery with use of a deadly weapon when he went on a rampage last year. His counsel, Las Vegas defense attorney Ross Goodman, was able to trim what could've been 15 years in prison down to only 60 days (Case No. C264858, Eighth Judicial District Court, Clark County, Nevada). Luke Shawley was in Las Vegas in active duty as a navy SEAL to support a Red Flag training exercise at Nellis AFB.
On his night off, Luke Shawley had dinner with other members from his navy seal team and went to the night club Tao. Luke Shawley was captured off tape inside the night club acting friendly and did not appear drunk. Ross Goodman argued that the video showed Luke Shawley accidentally picking up another person's drink which the defense contended contained an MDMA-like substance. Goodman argued on trial that the involuntary ingestion of the drug was the only explanation for Luke Shawley experiencing this break in reality after leaving the night club. (Case No. C264858, Eighth Judicial District Court, Clark County, Nevada)
Shawley's alcohol-induced behavior was caught on surveillance camera in the backrooms of the nightclub Tao, located on the Strip. The tape shows him swinging at unwary people with an aluminum pipe. District Court Judge James Bixler, who gave his minimal 60-day sentence, said, "Boy, you sure were scary. I'm sure you saw those clips as many times as I did and it was very frightening to see what happened." (ABC 13 Action News http://www.ktnv.com/news/local/135685623.html)
Questioned by investigators, Shawley said he did not recall those attacks, saying he remembers only having 8 or 9 drinks but suspected that someone slipped the drug MDMA in one of his drinks. Tao has records showing he bought 18 drinks at least and tests reveal no trace of the drug in his blood, though some were found on his hair. (News 3 Local News http://www.mynews3.com/content/news/local/story/Ex-SEAL-sentenced-to-60-days-in-jail-for-drunken/JUlQRBotZEunFPJm5yckYw.cspx)
Goodman argued that Shawley picked up an MDMA-laced drink that wasn't his, which caused him to have a psychotic break. The resulting events sent three people to the hospital.
Judge Bixler stated Shawley was totally out-of-character that night and that he just suffered an alcohol or drug-induced psychotic break, pointing to the fact that he had a record of exemplary service as a Navy SEAL. He could not let him go without some form of punishment, though, and sentenced him to 60 days jail time with 4 days taken off for time served as a condition of probation. Goodman says the judge sided with the defense because they were able to show that Luke Shawley was not a bad person. (http://www.mynews3.com/content/video/ondemand/news3atnoon/default.aspx News 3 at Noon | THURSDAY | 12/15/11 Block 1 of 2)
In speaking with new media outlets, Ross Goodman said- "I don't think anybody disputes Shawley's character. The jury didn't dispute it. It was just an unfortunate incident that has a good explanation for about what we saw on video, about him grabbing a third party's drink, and at that point it caused him to react that way."
On house arrest in San Diego since his conviction in August, Shawley is planning to return to North Carolina to finish school and serve his probation there after he serves his jail time. He is to report back to court on January 17.
###