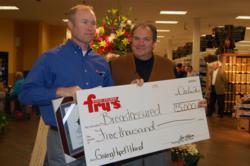 (PRWEB) December 21, 2011
Breast Assured Foundation is proud to announce that Fry's Food Stores is the January 2012 "Spirit Of Service" award recipient for their dedication to serving the needs of Tucson's women by sponsoring mammography screenings at no cost to 34 local women in need.
About Fry's Food Stores:
Fry's Food Stores is headquartered in Tolleson, Arizona. The company employs more than 18,300 Arizona residents. The 121 Fry's Food Stores service more than one million households per week. Fry's has been serving Arizonans with fresh food at famous low prices since 1960. Fry's Food Stores is a proud member of the Kroger Co. based in Cincinnati, Ohio. For more information, visit the company's Web site at http://www.frysfood.com.
About Breast Assured Foundation:
Breast Assured Foundation is a non-profit organization founded to provide relief to women who need financial assistance in obtaining necessary preventive care health services for screening and diagnosis of breast cancer. Allocations and incentives provided are targeted specifically toward patients who lack sufficient funds or insurance to pay for their screenings. To learn more about community service offerings, involvement & outreach, please visit Breast Assured at http://www.breastassuredfoundation.org.
###