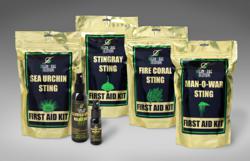 Our distinctive gold foil kits are rugged, light weight and heat sealed tight so they can go any where you go..
Houston, TX (PRWEB) December 29, 2011
Kevin Freeman, president of Ocean Care Solutions and creator of the company jellyfish sting relief spray along with the only marine animal sting first aid kits available to the consumer for the Portuguese Man o' War, Sea Urchin, Stingray and Fire Coral injuries announced the company is set to begin full line distribution January 2012. Ocean Care will be delivering product to retailers in Southern California and from North Carolina south past the Florida Keyes and on to Padre Island, Texas on the Gulf for now with a plan to begin distribution in the Northeast spring 2012. "Our goal is to reach full U.S. retail distribution by summer 2013," says Freeman. As international market demand and interest continues to gain momentum, Ocean Care expects product distribution to reach global markets as well.
Developing each kit was quite a journey for Freeman with so many differing opinions and range of potential remedies but Freeman, a diver and beach enthusiast, reasoned there had to be a medically and scientifically dependable first aid protocol central to each of these injuries that was readily available.
"It seemed to me there was more myth and various public perceptions wrapped up in these envonmations than significant medically supported protocol. I started by interviewing life guards, beach rescue units, open water swimmers, kayakers, surfers, windsurfers, sports fishing groups, divers and beach goers all over the U.S. coastal reaches asking what they would use in case they were stung. I was amazed at the various first aid claims from urine, baking soda, coca-cola, wine, vodka to some pretty wild formulas. I also discovered that sea urchins, fire coral and to a lessor extent, stingrays were responsible for plenty of additional animal injuries sustained at or around the beach. Something had to be done."
Freeman began pouring over medical papers and scientific discoveries dating back to the early 1980's to determine the most effective medical protocol. Beginning with the author on the subject of jellyfish envenomation, U. Of Maryland Dermatology Dept., Professor Emeritus, Dr J.W. Burnett. Dr Burnett also established the International Consortium of Jellyfish Stings (ICOJS) in the 90's to test first aid protocols, debunk myth, refute first aid claims and expose placebos. In his discovery, Dr Burnett made recommendations that vinegar is the centerpiece to painful jellyfish sting relief including a 1983 study of the Australian Blue bottle (the smaller cousin of the Atlantic Portuguese Man o War), where he stated acetic acid was a "good inhibitor for the man o' war" sting".
Freeman found additional recommendations verifying 5% acetic acid as a neutralizer for sting toxins in medical studies and scientific papers by Dr G. Patrick Daubert, U.C. Davis, Georgetown Medical, Marine Sting Institute, Queensland Health, Australian Medical Journal 2008, Australian Resuscitation Council, the World Health Organization, American Heart Association, the American Red Cross and from the book "Medicine for the Outdoors" authored by Dr Paul S. Auerbach from Stanford Medical.
Ocean Care Solutions' First Aid Kits are designed to meet these published medical and marine science first aid protocols for these animal stings specific to each injury including their Jellyfish Sting Relief Solution. The OCS jellyfish sting relief spray contains the recommended 5% acetic acid is available in 1oz. individual and 4 oz. family size spray bottles which has been proven effective on several species of stinging jellies including the Box, Mauve, Lion's Man, the Sea Nettle, Sea Wasps and a whole host of sting organisms. Each easy-to-use kit is complete with all the medical components necessary and easy to read first aid instructions to effectively treat an injury immediately.
Ocean Care Solutions distinctive gold foil pouch is water tight, light weight at 14 ounces and durable was designed to go in any sports or dive bag. Surfers, wind surfers, kayaking, sport fishing, diving, snorkeling, swimming or just hanging out at the beach, Ocean Care Solutions developed the definitive first aid marine sting kit for the ocean sport enthusiast.
###