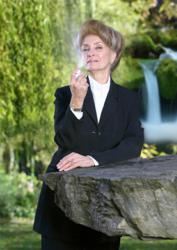 Grants Pass, OR (PRWEB) December 20, 2011
The humidity in the air we breathe - the tiny suspended water droplets that permeate Earth's atmosphere - is essential to life. Sharon Kleyne, founder of Bio Logic Aqua Research, announces personal hand-held humidifying devices to supplement clean humidity. Without humidity your lungs, skin and eyes would quickly suffocate. Humidity is the "breath of life."
In much of the world, the air's humidity is becoming alarmingly contaminated. To the lungs, skin and eyes, this "polluted humidity" differs little from extremely dry air with low or no humidity.
According to a Tulane University study ("Climate Changes, Humidity and Mortality in the United States," Alan Barecca, 2009), humidity fluctuations will raise mortality rates from cardiac and lung diseases, and also effect numerous dehydration diseases leading to dry eye, blindness and skin cancer.
Sharon Kleyne's research has concluded that the rapid global increase in polluted humidity and dry air is creating a worldwide health crisis. According to Bloomberg News ("Death-by-Air in Beijing Shows China's Heart Risk from Worsening Pollution," December 15, 2011), outdoor air pollution kills 1.3 million people a year worldwide.
The same Bloomberg News article states that that pollution related mortality in China, which the Chinese call "death-by-air," is rapidly rising. Chinese government attempts to control industrial air pollution have been offset by a sharp rise in automobile emissions. Car sales in China rose 32% in 2010.
Sharon Kleyne is deeply concerned about the worldwide health impact of dry air and polluted humidity, especially in China. Her lifelong mission has been to educate and empower individuals to take proactive measures on their own to protect against polluted humidity. Because of the "death-by-air" urgency in China, her efforts in recent years have focused on that country.
Sharon Kleyne advocates the distribution and use of personal hand-held humidifying devices that provide an instant all-natural, all-water mist of clean, moist humidity. The mist creates a humid envelope around the face, eyes and breathing passages that supplements the air's natural moisture. Mrs. Kleyne's hand-held humidifying device for dry eyes, Nature's Tears® EyeMist®, has been used by millions worldwide. The humidifying mist increases natural moisture (water) volume in the eye's tear film to soothe eye inflammation and dry eye.
"A small amount of water mist," says Mrs. Kleyne, "can have a tremendous impact on tear film moisture to soothe irritated, suffocating and dry eyes. The first step is to educate the public on proper eye care, the effects of dry air and polluted humidity and living with a changing planet."
Mrs. Kleyne predicts that one day soon, products like Nature's Tears® EyeMist® will be an indispensable personal amenity – much like lip balm, sunscreen, protective clothing, bottled water and toothpaste.
The Sharon Kleyne Hour Power of Water is heard live on Mondays, 10 a.m., PST/PDT, on Voice America, World Talk Radio, Green Talk Network and Apple iTunes. Go to http://www.SharonKleyneHour.com for written summaries and on-demand replays of past shows. Also visit http://www.naturestears.com, http://www.whatistheeye.wordpress.com, "Nature's Tears EyeMist" on Facebook and "Bio-Logic Aqua" on Twitter.
Nature's Tears® EyeMist®, a personal, portable hand-held humidifying device for dry eyes and eye irritation, is bottled by Sharon Kleyne's company, Bio-Logic Aqua Research. Nature's Tears® EyeMist® is a sponsor of the Sharon Kleyne Hour Power of Water and is available on http://www.Amazon.com under "Computer Accessories" and "Health and Beauty."
© 2011 Bio-Logic Aqua Research
###