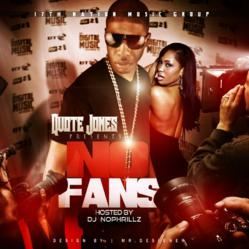 (PRWEB) December 19, 2011
Hip hop artist Quote Jones recently released his mixtape "No Fans." Coast 2 Coast Mixtapes and 17th Nation Music Group present the project, which is hosted by DJ NoPhrillz and now available for free download. "No Fans" features Quote Jones on tracks with Shawn Harris and Y-Duce. Production is added by Allstar Conway, Keep Banin, Jahlil Beats, Sledgren, Flawless, and Superstar O.
Quincy "Quote" Jones was born and raised in Richard Allen projects, in North Philadelphia. Growing up as the only one of his siblings living in the home and with parents that struggled with substance use, Quote had a difficult upbringing at times. And though his parents couldn't give him everything he wanted, they still managed to provide. He looked up to his brother, who was a DJ, and as a kid Quote thought he wanted to be a DJ himself. He listened to music from B.I.G., Tupac, Busta Rhymes, Wu-Tang Clan, and everything from Big Pun to his grandfather's oldies. He had moved from Richard Allen projects to a new neighborhood, which was predominantly Hispanic. He had to start working and hustling at age 13 because his mother's drug addiction had worsened and he often didn't have food to eat. His brother soon took him in, and life began to improve.
Quote entered his first rap cypher when he was in the eighth grade, and became truly serious about his craft when he was about 15. Since then, his life has been only rap, as he has been working to perfect his craft despite many of the challenges he has continued to face. Founding 17th Nation Music Group, Quote has put out a number of mixtapes and videos, and is working on a number of projects for future release. For more information, check out his website at QuoteJones.com.
"No Fans" is available for free streaming and download at http://coast2coastmixtapes.com/mixtapes/mixtapedetail.aspx/quote-jones-no-fans
###