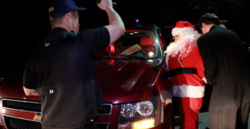 What if Santa Was Inspected by FDA?
Columbia, MD (PRWEB) December 19, 2011
A Maryland FDA consulting firm is increasing its satirical "Santa Claus vs. the FDA" marketing campaign adding new video content depicting Santa's shocking arrest by the U.S. FDA for illegally smuggling product into the United States. The project started out as a light-hearted way to talk about import compliance but has now taken on a life of it's own with mock interviews, a COPS-style arrest scene, and the addition of the firm's CEO as Santa "Nic" Claus' attorney.
Initially part of a creative marketing campaign aimed at domestic and international manufacturers, importers and distributors, FDAImports.com is asking, "What if Santa was inspected by FDA?" Using a faux-news campaign to be both melodramatic and insightful, the regulations mentioned in the blogs and videos are actual rules that a real Santa would have broken over and over with his manufacturing and gift-importing enterprise. The link to the new footage is below with additional content the firm has created.
1. Video Footage of Santa's "arrest" and Interviews
3. Reactions to the "Santa vs. The FDA" campaign
4. "Santa Claus is the FDA's Public Enemy #1" article
FDAImports.com is an FDA consulting firm helping U.S. and foreign companies navigate through and meet complex FDA regulations for marketing and importing foods, dietary supplements, drugs, cosmetics and medical devices. Benjamin L. England, Founder and CEO, is a former 17-year veteran of the FDA and served as the Regulatory Counsel to the Associate Commissioner for Regulatory Affairs. Contact us at fdaimports.com, call (410) 740-3403 or contact Jon Barnes at jrbarnes@fdaimports.com.
###