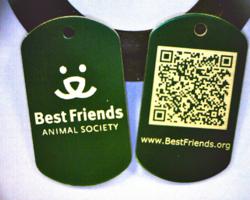 Boston, MA (PRWEB) December 21, 2011
QR Devices announces the launch of the Paperless Business CardTM, a revolutionary new green way to get contact information to customers and clients using QR Codes.
QR Devices laser engraves a QR Code onto a tag, keychain or business card case to create the Paperless Business CardTM. All contact information can be stored as text in the QR Code or as a link to the URL of your choice. This might be a LinkedIn Profile, Facebook page, Company website, or Twitter profile.
Recipients simply "read" the QR Code with any of the readily available free QR Code reader apps. The information goes right to an iPhone, Driod or any other smart phone with no worries about lost business cards.
With no printing required, the Paperless Business CardTM eliminates the need for ink or solvents, and there is no re-printing if contact ID information changes since it's all stored online. The laser process creates an indelible mark that cannot be easily removed.
###