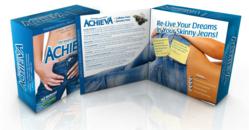 According to company spokesman Jeff Lefkowitz, "The odds of success for the number 1 new years resolution will be greatly improved with Achieva. We offered Free Shipping to jump start the weight loss program."
Weston, Florida (PRWEB) December 21, 2011
The New Year is the time many of us make resolutions, and according to a survey conducted by the Opinion Research Corporation, 46 percent of those who make New Year's resolution want to lose weight, the most popular intention among respondents. Losing weight is always a challenge, but following holiday season and over the winter, it's even more of a challenge. Succeed Laboratories, the creators the Achieva Weight Loss Formula have set out to improve the odds of success with a diet supplement that helps curb the appetite, convert body fat into fuel, promote satiety and increase metabolism. And to jump-start a weight loss program, all orders of Achieva placed until February 15 will include free shipping.
According to Jeff Lefkowitz, company spokesman, "Achieva is part of a meal plan, not a diet. A diet is often difficult to adhere to and has a high drop-out rate, while Achieva decreases hunger pains and reduces food cravings – without starvation or an exercise regimen."
Achieva (achievaweightloss.com) is a pharmaceutical grade, caffeine-free supplement that allows the dieter to eat less while still feeling full and satisfied without the usual side effects of most diet pills The proprietary formula includes natural appetite suppressant African hoodia and natural weight loss supplement L-Carnitine. A 60-count box (or 30-day supply) lists for $49.95. (Free shipping thru 2/15/12)
Achieva on facebook:http://facebook.com/achievaweightlossformula Click "LIKE and JOIN the conversation.
About Succeed Laboratories, LLC
Succeed Laboratories, LLC is a nutraceutical manufacturing company, founded by industry veterans committed to developing consumer products with lifelong benefits of sound nutrition and wellness practices. We are committed to the development of innovative, science-based products, manufactured to the highest standards of potency and purity with superior ingredients.
###