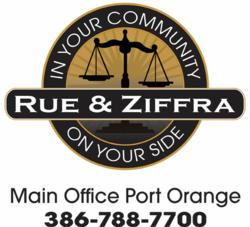 "It was a small thing for us to do by donating a few hours of our time," Ziffra said. "But, it really was a big deal for those parents and their two children who are so grateful to have a roof over their heads."

Port Orange, FL (PRWEB) December 20, 2011
Three partners in the Port Orange-based law firm of Rue & Ziffra recently were "arrested" and placed under lock and key until they could raise enough charity bail money for their release.
Longtime partners in the personal injury firm – Allan Ziffra, David Sweat and Luis Gracia – were arrested and taken into custody by the firm's "charity police" Thursday afternoon according to Ziffra, a founding partner in the firm.
The event was similar to the United Way's "Jail and Bail," in which individuals volunteer their time to raise funds by collecting "bail money" to get out of jail.
The trio was detained until they raised more than $1,500 by calling, texting and emailing co-workers, business associates, friends and family members to gather up their "bail" money, which had been earmarked for a homeless Port Orange family.
"One of the other partners was contacted about a family in need and after we heard the circumstances we decided to help out as much as we possibly could," Ziffra said. "They're like so many others right now; the father lost his job more than a year ago and the mother has medical problems."
The cash contributions were used to pay for two month's rent at a local motel. The partners also netted several gift cards for the family and collected several boxes of food during their two-hour incarceration, he said.
"It was a small thing for us to do by donating a few hours of our time," Ziffra said. "But, it really was a big deal for those parents and their two children who are so grateful to have a roof over their heads."
About Rue & Ziffra: Founded by John D. Rue and Allan L. Ziffra, the personal-injury law firm of Rue & Ziffra has served the Central Florida community for more than 25 years. The firm's commitment to its profession and its clients has earned it a reputation as one of the top personal-injury law firms in Central Florida. Known for handling everything from automobile and motorcycle accidents to medical malpractice, wrongful death, and social security and disability cases, Rue & Ziffra has recovered millions of dollars for injured clients and their families. With a staff of nine attorneys, the firm maintains offices in Port Orange, DeLand and Palm Coast. For more information, visit http://www.rueziffra.com.
For more information about this release, please contact:
Allan L. Ziffra, President, Rue & Ziffra P.A., 386-788-7700 or aziffra(at)rueziffra(dot)com
Jessica Eckelbarger, Marketing Manager, Rue & Ziffra, 386-788-7700 or jessicae(at)rueziffra(dot)com
Charlene Hager-Van Dyke, Larry Vershel Communications, 386-532-8862, 407-644-4142 or chagervandyke(at)yahoo(dot)com
###