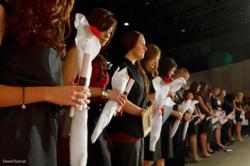 Lynchburg, VA (PRWEB) December 19, 2011
Liberty University's December nursing graduates gathered on Friday, Dec. 16 at the Towns-Alumni Lecture Hall for the annual pinning ceremony.
"It is a celebration of the end of several years of hard work," said Dr. Deanna Britt, chairperson of the Department of Nursing, before Friday's ceremony. "They are now finished and (are) looking forward to meaningful careers in healthcare."
The December graduating class includes 42 females and seven males, who have participated in clinical training, simulations and mock physical examinations throughout their years in the program. Along with special awards and certificates, the graduates received their pin -- an emblem of Liberty's nursing program -- that they can wear on the job.
Liberty currently offers a residential Bachelor of Science in Nursing, as well as an R.N. to B.S.N. and a Master of Science in Nursing through its online education program.
Ten students in the online program traveled to Lynchburg to attend Friday's ceremony.
The winter ceremony, though much smaller than May's, has grown in size since the first December pinning in 2005 with 12 students.
The nursing department was launched in 1991 and has expanded greatly beyond the limits of Lynchburg.
"Because of our size, we are now sending students for clinical experiences to Richmond, Roanoke and Charlottesville," Britt said last week. "They can work with spinal cord injuries and we don't have a unit dedicated to that here in Lynchburg. There are also pediatric emergency rooms and intensive care units at these other facilities."
Liberty's nursing program boasts a 99 percent job placement rate for students upon graduation.
Liberty University, located in Lynchburg, Va., is the world's largest Christian university. More than 12,000 students attend classes on its 6,500-acre residential campus and more than 60,000 study in its thriving online education program.
###