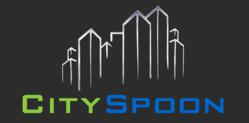 Las Vegas, NV (PRWEB) December 19, 2011
CitySpoon, the web's one-stop-shop for savings at local vendors and advertising opportunities for businesses of all shapes and sizes, has been working hard to make the great deals at CitySpoon.com available to everyone on the Internet. This process has involved many revamps to the already friendly user interface, a new method for logging in and creating accounts, and several uses of different social media tools. Overall these additions to the already successful CitySpoon website have proven to be successful with increases in Spooner (CitySpoon user) and vendor accounts.
CitySpoon.com, the face of CitySpoon, has had many recent updates to optimize the ease of printing out coupons and saving money for Spooners. From the home page users have all of the tools necessary to locate deals in their city, find coupons for their favorite local businesses, see upcoming events that are happening nearby and many other fantastic opportunities. By holding the mouse over the "Coupons" tab on the top of the page, Spooners have the option of viewing coupons from CitySpoon vendors or viewing national coupons good for many products they purchase every day. The local vendors section showcases all of the businesses that have partnered with CitySpoon to display exciting deals all geared towards saving money. The national coupons, a section of CitySpoon used by the most savvy of Spooners, gives access to pages of discounts for select items. These discounts can be used wherever the product is sold. While CitySpoon is currently expanding throughout the world, these coupons are already available to every registered Spooner and are a great way to start saving money with CitySpoon!
Also available from the home page is a variety of useful tools for Spooners and vendors alike. Spooners can see upcoming events in their town by clicking the "events" tab, giving them access to more upcoming events than any one Spooner could enjoy! Spooners also have the option of submitting information about their favorite local business by selecting the "Suggest a Business" link on the right and bottom of the page. This option has helped build the Spooner community even greater by letting CitySpoon know exactly which businesses members are interested in seeing on CitySpoon.com. Similarly vendors from all over can become a vendor and even inquire about the many advertising opportunities by selecting the "Become a Vendor" and "Advertise" links respectively. All of these options are available to any interested businesses and CitySpoon encourages all businesses to explore CitySpoon.com and register a free vendor account.
Another great option is the inclusion of social media in the vast world that is CitySpoon. Potential members can now become full-fledged Spooners with just a few simple clicks by creating an account or logging in with their Facebook profile. Rather than spending time filling out a Spooner profile, new members can sign up by clicking the handy "Log in with Facebook" button in the "Join" and "Sign In" sections, and can use the same system for easy logging in in the future. Going even further with the Facebook integration, CitySpoon is proud to post its newest deals to its Facebook Fan Page (facebook.com/CitySpoon) and also keep members and interested parties up to date using Twitter (twitter.com/CitySpoon). These are great ways for users and vendors to stay up to date with the latest happenings on CitySpoon.com, even if they're not yet sure if they want to sign up for a free account.
All of these exciting updates and more are keeping CitySpoon at the cutting edge of the competitive coupon world. Recent additions to the CitySpoon vendor world include Fast Lap Indoor Kart Racing (fastlaplv.com) who is offering a buy one get one free offer on all tickets to race, and Adventure Photo Tours (adventurephototours.com) who is offering $20 off a full day photo tour and $10 off a half day photo tour. These exciting deals and more are available to all registered Spooners.
Be sure to check CitySpoon often; new deals are being posted for every day!
About CitySpoon:
CitySpoon, launched Summer 2011, serves as a local guide for living bigger, better, and smarter by providing in-the-know recommendations, candid user reviews and expert advice for businesses and events in CitySpoon communities.
CitySpoon was created as a multi-platform resource for people to save money and help businesses grow. The site offers discounts on national products consumers already know and love while providing local businesses with an affordable avenue to market their current promotions.
CitySpoon members are enthusiastic about life and the driving force behind the company. Together with a private network of local and national businesses, CitySpoon offers fun, affordable experiences. CitySpoon keeps "Spooners" connected to the most popular and unique places and products.
For more information please visit http://cityspoon.com.
Follow CitySpoon on Twitter: @CitySpoon
"Like" CitySpoon on Facebook: facebook.com/cityspoon
###