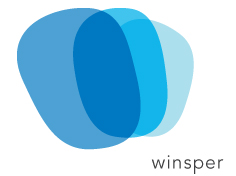 Boston, MA (PRWEB) December 21, 2011
With four new accounts in the past six months, and continued expansion of customer relationship management services, Winsper has recently hired and promoted staff to help support growth of firm.
Cassandra Liu, Sr. Director, Multi-Channel Strategy and Analytics, heads up Winsper's customer relationship management practice. She currently provides customer intelligence, CRM strategy and marketing automation support to clients such as Museum of Fine Arts, Boston, Global Spec, Autotask, and American DG Energy. Cassandra's past work experience includes Quantia Communications, as Sr. Marketing Manager, Marketing Communication & Analytics; Iron Mountain, as Sr. Database Marketing Manager, North America Marketing; Symantec Corporation, as Direct Marketing Manager; and BBDO Advertising Agency, Taipei, Taiwan.
Katerina Martchouk, Creative Director, oversees Winsper creative strategy and cross-channel content creation. Katerina's past experience includes Isobar, MIT Sloan School of Management, Carbonite, and Carat. As a Creative Director and Copywriter, she developed digital strategy and led the creative concepting and execution of online marketing campaigns for global clients, supervised creative teams, managed key client relationships and contributed to new business development.
Ashley Chin, Client Advisor, provides client counsel and project management. She currently handles accounts such as Global Spec, the Museum of Fine Arts, and American DG Energy. Ashley joins us from Chicago, where her previous experience includes Abelson-Taylor, Nine Naturals, LLC, and KMP Video Productions.
Gillian Lynch has been promoted to Director, Client Advisor. Gillian, who joined Winsper in 2010, provides client strategy, brand and market research, and account management. She heads up clients such as the Museum of Fine Arts, Boston, Hypertherm, American DG Energy, GlobalSpec, and STIHL. Gillian's previous experience includes Bernard Hodes Group, Circles, and Shorey Public Relations.
Kristen DiMenno, Office Manager, supports the agency with day to day office operations and process management and financial support. Previous experience includes public school teaching, real estate development, and freelance editing and graphic design.
About Winsper
Winsper is an independent "thinking firm" headquartered in Boston, MA. With its "Customer-Centric" platform, Winsper devises new ways for its clients to build their brand value over time and sales overnight by providing integrated solutions across all facets of clients' business that includes brand strategy, customer intelligence, cross-channel execution, and CRM solutions. Winsper is an independent agency representing both emerging and established companies in a variety of industries including finance, retail, and technology industries markets. Client experience includes IBM, STIHL USA, SAP Americas, Inglesina, Museum of Fine Arts, Boston, American DG Energy, and Hypertherm.
###