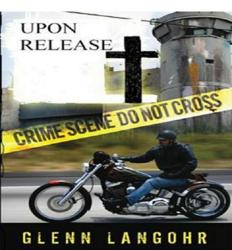 If you believe it, and can see it, you can achieve it!
(PRWEB) December 20, 2011
Having served 10 years in prison on drug charges, Glenn Langohr changed his life through writing, and now it's paying off. Upon Release, a drug war novel about redemption, and A California Pelican Bay Prison Story are both at the top of their categories on Amazon.
Sequel To Roll Call: Upon Release from Pelican Bay Prison, B.J struggles not to look back at the Criminal Justice System that tried to kill him. Inspired to help prisoners turn their lives around through art, he tries to work for the church. Running into judgment, the church doesn't tell the shelter he lives at he was volunteering his time helping orphans and B.J is on the run again. Add a beautiful ballerina, a good cop squeezed out of the loop by overzealous detectives, a prison protest to help the voiceless, and the temptation to do a massive drug run from Mexico, and you have the perfect recipe for a Spiritual revolution, where compassion is missing, all leaving the reader wondering; who are the real criminals?
Make sure you check out Roll Call to see how Detective Pincher became a drug addict.
Make sure you check out A California Pelican Bay Prison Story-Race Riot and Lock Up Diaries-Drug Debts, to see what happens in prison when dope is involved.
Author Bio -
Glenn Langohr was an obsessive compulsive addict who researched the U.S War on Drugs so deeply, he met and did business with Mexican Cartels, outlaw bikers and street gangs until the criminal justice system interrupted him. From prison, for 10 years he wrote every morning at 4 AM, before the politics and survival in a variety of California level 4 prisons took over. Upon his release from prison he married his dream girl ballerina, Sanette, who plays Annette in the sequel to Roll Call, Upon Release. His vision is to help other prisoners write and publish their art and stories and God is blessing him in this direction daily with his Lock Up Diaries and other works. He uses prisoner art for some of his book covers.
Kirkus Discoveries, Nielsen Business Media
discoveries(at)kirkusreviews(dot)com
A harrowing, down-and-dirty depiction—sometimes reminiscent of Steven Soderbergh's Traffic—of America's war on drugs, by former dealer and California artist Langohr.
Upon Release by Glenn Langohr, was 3.99 on kindle and is .99 cents for a limited time.
"My vision is to show the world that God can take prisoners at places like Pelican Bay, who are deemed the "Worst of the worst" and channel their strong will into a blessing. See my youtube video for more. "
Interviews and review copies available.
# # #