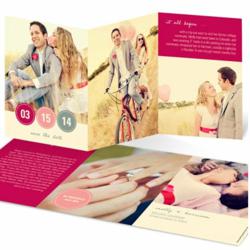 This new Save the Date card collection allows everyone to share in the bride's excitement.
Mankato, Minnesota (PRWEB) December 26, 2011
The latest line of Save the Date cards from Pear Tree Greetings have arrived online, and brides can now find a product that matches their wedding color scheme and personal style while incorporating unique and memorable design elements.
The excitement of a wedding truly begins once a bride selects a date for the big day, making it very real that she'll soon be a "Mrs." Now brides can share that excitement with family and friends when they send stylish Save the Date cards or Save the Date magnets as unique as the bride-to-be.
"Our team of talented designers has developed a Save the Date card collection that has a little something for every type of bride, whether she has vintage style and wants a postcard layout, or if she wants to showcase her boldness with vibrant colors and a magnetic backing," said Angela Ferrara, director of product development at Pear Tree. "A bride's wedding date announcement should be just as fun as planning the rest of the wedding – this new Save the Date card collection allows everyone to share in the bride's excitement."
Like the other Pear Tree collections, the new Save the Date cards are ready for personal touches, limited only by the bride's imagination. Share a favorite image or even multiple pictures with the new online photo-editing tool, which brides can use to change their images to black and white or sepia tone, sharpen certain colors or add more contrast. These personalization tools, along with a number of different designs and layouts, offer innumerable options for brides-to-be.
"Calendar displays let guests quite literally see when the big day will be. And our story cards have plenty of room for photos and text to chronicle how they fell in love," said Ferrara. "From speech bubble designs to scratch-off cards that reveal the couple's names, this Save the Date collection is full of fun surprises."
With affordable pricing, easy online ordering and exclusive customization options, our Save the Date cards allow brides to celebrate one of life's most shareable moments, while staying on budget and reflecting her unique style.
See the new collection, as well as all of Pear Tree's Save the Date cards here.
About Pear Tree Greetings
Pear Tree Greetings celebrates life's sharable moments with its unique collection of personalized, high-quality greetings and stationery made with 100-pound matte-finish card stock. With hundreds of designs for every occasion, available for purchase online for any budget, Pear tree inspires people to stay connected with friends and loved ones.
###