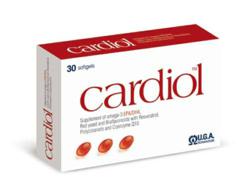 "My own cholesterol levels dropped 20% in just two months, while my triglyceride levels fell almost 30%, with just one Cardiol daily."
San Diego, CA (PRWEB) December 20, 2011
Solana Health's "How to Lower Cholesterol Without Drugs" reveals an all natural approach to lowering cholesterol and triglycerides (fat in the blood) without the expense and potentially harmful side effects of prescription drugs. Solana Health offers this free report at the educational site: howtolowercholesterollevels.net.
How to lower cholesterol is now a question for teens and adults. In 2010, federal health officials reported that 20% of teens and half of all adults have high cholesterol levels, boosting the risk of heart disease, strokes and other life-threatening illnesses.
A One-and-Done Approach to How to Lower Cholesterol
The founder of Solana Health, David McMahon was seeking how to lower cholesterol naturally and now refers to himself as 'living proof' that a drug-free approach really works. "After I turned 40, I had a physical and my total cholesterol was 238, but I didn't want to go on a Statin drug because of all of the side effects". McMahon then discovered a product called Cardiol in Italy, Cardiol has been the way Europeans have learned how to lower cholesterol since 2008, and has helped thousands lower their cholesterol naturally. "I was the first test case for Cardiol in the U.S.," says McMahon. "My own cholesterol levels dropped 20% in just two months, while my Triglyceride levels fell almost 30%."
How to Lower Cholesterol Naturally? Try the Best Remedy for 30 Days For Free!
Cardiol contains the only natural ingredients proven to lower Cholesterol and Triglyceride levels, including Omega-3, Red Yeast Rice, CoQ10 and Resveratrol. For a limited time a Free 30 Day Trial of Cardiol is available to new customers. To take advantage of this free trial just click here.
To order the free guide "How to Lower Cholesterol Without Drugs" visit howtolowercholesterollevels.net.
About Solana Health
Solana Health supplements are registered with the FDA and manufactured under Good Manufacturing Processes. Their products are considered pharmaceutical-grade and every batch of supplement ingredients is third party tested to guarantee purity and potency. To learn more visit http://www.cardiol.net.
###