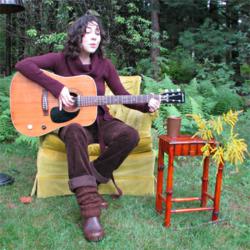 "Heather Maloney is a gem of New England's music scene, with a dazzling voice..." - The Wire, Portsmouth, NH
Easthampton, MA (PRWEB) December 19, 2011
The Insight Meditation Center of Pioneer Valley is pleased to announce that Massachusetts-based singer-songwriter Heather Maloney will be playing at Insight PV's Winter Solstice Celebration on Wednesday, December 21, 7-9pm. Come to Eastworks at 116 Pleasant Street, Suite 242 in Easthampton, MA. The public is invited to attend. Any donation is appreciated, $10 is suggested.
The evening will include a meditation sitting, snacks and an acoustic concert. Heather's music is inspired by her meditation practice and playfully expresses her intention to live completely in the present. She has described her songs as a "heartfelt effort to integrate music and awareness, creativity and presence; the intention to dance along the line between sound and silence."
Heather's latest album "Time and Pocket Change" was released to critical acclaim in April. Her mindfulness-inspired lyrics invite the listener to enter the present: "Meet me by the edge of this moment, you bring stillness, I'll bring movement. Meet me by the edge of right now, you bring silence and I'll bring sound." Her songwriting has earned her comparisons to Joni Mitchell and Bob Dylan.
A great way to get to know Insight PV is to drop in to a weekly open sitting on Mondays at 5:30pm or Wednesdays at 7:15pm. Insight PV serves Western Massachusetts from its relaxed meditation hall at Eastworks, offering classes and retreats throughout the year to help deepen and sustain meditation practice and cultivate wisdom.
All classes and retreats are offered on a "suggested donation" basis. No one is turned away from any event for lack of funds. Insight PV is wheelchair accessible, and for the comfort of those with chemical allergies, no incense is used at our events. For more information about all our events, please visit our website at insightpv.org.
###