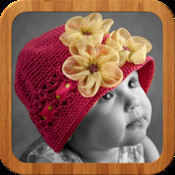 Bangalore, India (PRWEB) December 20, 2011
Indie developer Vijay Doddavala today is pleased to announce Color Splurge 1.4 free for iOS, his photography app that allows users to create dramatically enhanced photos by selectively removing or altering the color of people and objects in the photo. In the Top 5 Photo apps in the U.S. App Store for all of December, Color Splurge makes it easy to turn a color photo completely black & white, and then selectively replace the original colors or paint in new ones. The app works with most photos from the camera, Facebook, or the iOS Photo Library. Color Splurge features: unlimited undos, revert to original, zoom in & out, move photo left/right & up/down, compatibility with most photo resolutions, powerful save & export & import, continuously variable color selection for 16 million possible shades, and post card delivery with built-in Sincerely Ship capability, which creates and ships a 4 x 6 personalized postcard anywhere in the world.
In the age of iOS photography, where billions of snapshots are in circulation around the globe, it is not easy to make a portrait photo stand out. A technique long used by professionals, selective desaturation, produces dramatic results by accenting a black & white photo with splashes of color. Until recently, a photographer needed a costly Photoshop-like piece of software to expertly execute this graphic sleight of hand. Now, Color Splurge produces professional results effortlessly in a free app for iOS. Formerly named Color Splurge - Color/Recolor/Gray/Splash Color/Colorize, the app includes all these functions, plus much more.
To start, users can use photos from any of the following sources: Facebook Profile photo, Facebook Album photos, iOS Photo Library or Album, built-in camera, or Clipboard. Once opened in the app, the user can completely desaturate (remove the color from) the photo with one button. Next, the creative photographer uses the normal two-finger gesture to zoom in to the photo, making it easier to add color to a small area. Two-finger manipulation of the photo is easy, even on an iPhone-sized screen. Finally, the user can choose from two kinds of color accents: natural or artificial. Natural accents reveal the actual, original color "beneath" the B&W photo. Artificial accents allow the user to paint a translucent color over any part of the B&W photo, turning an orange blue if desired. Because it is a semi-transparent layer of color, the details of the object, including highlights and shadow, show through, which adds realism. Photo retouchers can dial in any one of more than 16 million colors, and can paint using a fingertip or variable sized paintbrush. Another choice is to colorize the entire photo, for example, add a sepia tint uniformly to the entire picture.
Feature Highlights:

Selective desaturation - remove color from selected areas
Colorize - pick the color you like and paint your photos
Get the images from your Facebook Album, Facebook Profile Photo, Photo Album, and Camera
Upload your work to Twitpic, Facebook Albums, Phone Album, Email and Clipboard
Supports Undo with unlimited (until memory is full in your device) number of levels
Save as many projects as you want
Multiple resolutions to choose while Uploading your images
Copy the image to the clipboard and use it wherever you like
Zoom In, Zoom Out and Pan using your two fingers
Use the Brush size that works for you
See the Brush tip while working on the image, so that it will be easy for you while working on the image
And it is free
With their new photo finished, Color Splurge artists can save the photograph to the iOS Photo Library or the Clipboard. Integrated export and upload options include: email, Facebook Albums, Twitpic, and the newly incorporated post card feature. The app includes a built-in, optional service called Sincerely Ship. This third-party photo specialist offers Color Splurge users the opportunity to have their custom photo printed as a 4 x 6 post card with a personalized message, and then mailed anywhere in the world. Customers are billed directly through Sincerely, Inc., known for their Postagram service.
"It has been very gratifying to see Color Splurge become a Top 10 Photography app in more than 30 App Stores worldwide," commented Vijay Doddavala. "My plan is to continually improve it and keep it free, so that more and more people can enjoy it."
Device Requirements:

iPhone, iPad, or iPod touch
Requires iOS 3.2 or later (iOS 5 tested)
6.5 MB
Pricing and Availability:
Color Splurge 1.4 is now free (ad-supported) and available worldwide exclusively through the App Store in the Photo & Video category.
Vijay Doddavala
http://www.photoandvideoapps.com/
Color Splurge 1.4
http://www.photoandvideoapps.com/Apps/ColorSplurge/ColorSplurge.html
Purchase and Download
http://itunes.apple.com/app/color-splurge-color-recolor/id473535285
Screenshot 1
http://a2.mzstatic.com/us/r1000/115/Purple/d1/07/f1/mzl.foqcbkje.320x480-75.jpg
Screenshot 2
http://a1.mzstatic.com/us/r1000/062/Purple/fe/b4/f5/mzl.oviehipy.320x480-75.jpg
App Icon
http://a1.mzstatic.com/us/r1000/079/Purple/d6/f8/b0/mzl.ryaksvgm.175x175-75.jpg
###