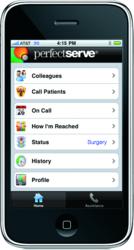 We look forward to helping Illinois Masonic - one of Chicago's leading Level I trauma centers - improve their efficiency, reduce risk and enhance their ability to coordinate care.
Knoxville, TN (PRWEB) December 20, 2011
Advocate Illinois Masonic Medical Center, a 408-bed Magnet hospital in Chicago and part of Advocate Health Care, has announced it will implement PerfectServe's hospital communications system. This is PerfectServe's fourth contract with the 11-hospital Advocate Health Care System, one of the nation's top 10 health systems.
PerfectServe will enable more than 1,000 physicians at Illinois Masonic to speed medical communication, reduce medical errors and improve patient safety. The first Advocate medical centers to implement the system were Advocate Lutheran General Hospital, Advocate Good Shepherd Hospital, and Advocate Trinity Hospital.
PerfectServe enables physicians and nurses to quickly connect with anyone on the medical staff. The intelligent physician and nurse call and message system automatically routes calls and messages to the right physician, in the right way, based on the physicians' communication preferences for that moment in time. It saves time, increasing physicians' satisfaction and improving the care collaboration process.
When PerfectServe is implemented, every medical staff member—inside and outside Illinois Masonic—will be connected on a single medical communications platform and directory. Access is provided via one-number voice search, Web, and iPhone and Android apps.
"Advocate Health and Illinois Masonic have solid reputations for quality, which we will help support," said Terry Edwards, chief executive officer of PerfectServe. "We look forward to helping Illinois Masonic— one of Chicago's leading Level I trauma centers — improve their efficiency, reduce risk and enhance their ability to coordinate care."
About PerfectServe
PerfectServe is the leading provider of voice, online, and mobile hospital communication solutions. It routes calls and messages to the right doctor, at the right time giving physicians complete control over the communications they receive. Its fully integrated system automates and standardizes clinical communication, expedites care coordination, improves patient safety, and reduces medical errors and sentinel events. PerfectServe processes more than 30 million clinical communication interactions among 20,000 physicians in 154 markets across the U.S. each year. For more information, visit PerfectServe.com
###